15 Notable African-Americans Who Are Out As Bisexual
In recognition of Black History Month, Unicorn Booty is sharing our best articles on Black culture. Celebrate with us by sharing your favorite Black artists and activists in the comments below or on our Facebook wall.
The list of famous African-Americans who are believed to have been bisexual include Malcolm X, Jean-Michel Basquiat, James Baldwin, Josephine Baker, and "Empress of the Blues" Bessie Smith.
A number of notable African-Americans still living have alluded to their bisexuality though they don't publicly embrace the bisexual label. For example novelist Alice Walker, who is quoted as saying, "I'm curious. I'm open to the spirit of a person whether that's a man or a woman or whoever, that's not what's important to me. What's important is the spirit."
Rapper Frank Ocean in 2012 posted the emotionally revealing story of the loving relationship he'd had with a man, and later responded in an interview to the question, "So do you consider yourself bisexual?" in part with, "…just take what I give you. You ain't got to pry beyond that. I'm giving you what I feel like you can feel. The other shit, you can't feel. You can't feel a box. You can't feel a label."
Activist Dr. Ibrahim Farajajé has identified as bisexual at times but according to a LGBT Religious Archives Network's bio, he "prefers no label other than that he's a 'full human being' that embraces all."
Alternately, in a New York Times Magazine article, Lee Daniels — the producer of the film Monster's Ball and the director of Precious — is quoted as saying, "I'd prefer to be bisexual, but I don't think any woman is going to accept me being with a man. I had to choose. And I did. But there's a deep connection with me and women."
The 1995 obituaries of E. Lynn Harris — the man who wrote controversial yet popular novels about black bisexual married men on the "downlow" — revealed the era's trend towards widespread bisexual erasure; almost all of them exclusively refer to Harris as gay, though a People Magazine article says he realized he was bisexual in college.
However, there are many notable African-Americans who clearly have embraced the bisexual label. Here are 15 of them.
Sapphire
Sapphire is best known as the author of Push, the 1996 novel about a pregnant teenage African-American victim of incest and abuse who is also obese, HIV positive, and illiterate.
The novel, which topped the N.Y. Times Bestsellers list, inspired the critically acclaimed 2009 film Precious with Oprah as an executive producer. 
In addition to being in The Village Voice's top twenty-five books of 1996 and among TimeOut New York's top ten books that year, Push also won the Book-of-the-Month Club Stephen Crane Award for First Fiction, the Black Caucus of the American Library Association's First Novelist Award, and the Mind Book of the Year Award.
Precious won Academy Awards for Best Screenplay and Best Supporting Actress.
The Kid, a sequel to Push was published in 2011.
Early in her carrier, Sapphire — who according to a London Evening Standard article, "describes herself as bisexual" —  published American Dreams, a compilation of poetry and prose which explores sexual identity, police brutality, and growing up with an alcoholic mother and abusive father.
In 1990, Sapphire received an Outstanding Achievement in Teaching Award for her work with literacy students in Harlem and the Bronx.
Dr. Herukhuti
Dr. Herukhuti (aka H. Sharif Williams) is co-editor of the recently released book,  Recognize: The Voices of Bisexual Men. He's also co-editor of Sexuality, Religion and the Sacred: Bisexual, Pansexual and Polysexual Perspectives, a collection of scholarship exploring the ways in which bisexual, polysexual, and pansexual people embrace religious and spiritual practice.
The Association of Black Sexologists and Clinicians named Dr. Herukhuti one of their Thought Leaders of 2015. He's also an editorial board member of the Journal of Bisexuality.
He was also among those invited to the September 23, 2013 Bi Pride/Visibility Day meeting hosted by the White House on bisexual public policy issues.
A founder of both the Center for Culture, Sexuality and Spirituality — "…liberating the ways people love, experience the Erotic, and connect to the Sacred" —  and Black Funk – "a sexual cultural center focused on Indigenous/Pan African Disaporic/Native/Global South approaches to sexuality" — Dr. Herukhuti is described on the website of Goddard College, where he is on the faculty, as:
"…a clinical sociologist, cultural studies scholar, sexologist, cultural worker, and neo-traditional African shaman whose work is focused on sexual cultures, Indigenous Wisdom Traditions, and decolonization. Rooted in community, he works in and with African/Diasporic, sexually oppressed, and other marginalized communities as a scholar-practitioner dedicated to and driven by the goals of liberation and social justice."
Among other notable accomplishments, Dr. Herukhuti is a former junior investigator at the HIV Center for Clinical and Behavioral Studies at Columbia University and New York State Psychiatric Institute, and co-founder and former co-chair of the board of Global Youth Connect, an international human rights organization.
Rebecca Walker
Rebecca Walker, named by Time Magazine as one of the most influential leaders of her generation, is the author of several books that look at living outside the boxes society tries to fit us into, speaking her truths as she sees them, without apparent fear of consequence.
When an interviewer in a Salon article said to Walker, "Identity navigation seems to be a theme of your work," Walker responded, "True. I always want to make more space for people who suffer because we don't fit into some bullshit paradigm that we didn't make," and then laughed.
Walker's first book, at age 25, was the controversial anthology To Be Real: Telling the Truth and Changing the Face of Feminism.
Black, White and Jewish: Autobiography of a Shifting Self is her memoir of growing up with divorced parents — her father is a Jewish civil rights lawyer and her mother is African-American novelist, Alice Walker.
Walker's book, One Big Happy Family, consists of 18 writers addressing topics such as open adoption, mixed marriage, polyamory, househusbandry, single motherhood, and "other realities of truly modern love."
Walker edited What Makes a Man: 22 Writers Imagine the Future, a collection of essays on the meaning of masculinity in the twenty-first century.
Walker is also the co-founder of The Third Wave Foundation: "a feminist, activist foundation that works nationally to support the vision and voices of young women, transgender and gender nonconforming youth."
Faith Cheltenham
Faith Cheltenham is the current president of the national non-profit bisexual advocacy organization, BiNet USA. She's also an appointee to the University of California LGBT Task Force and a contributing writer for Huffington Post.
Cheltenham was named one of Advocate magazine's "Forty Under 40," in 2012.
In 2013, she and other bisexual community leaders took part in the September 23 Bi Pride/Visibility Day historic White House Roundtable/Briefing on Bisexual Public Policy Issues.
In 2014, she was invited along with other influential people from the LGBT community to President Obama's signing of the order banning federal government contractors from discriminating against LGBT workers.
Travon Free 
Travon Free played Division 1 college basketball for the Long Beach State 49ers. In 2012, Free's successful career as a stand-up comic lead to a full-time writing gig for The Daily Show.
Free also has had recurring roles on Comedy Central's Tosh.0 and E!'s Chelsea Lately.
On his FREEdom of Speech socio-political comedy blog, Free came out specifically as bisexual in a heartfelt and intimate post in 2011, in which he explains, "I feel the world needs a little bit more authenticity. I need it from myself. So this is me practicing what I preach. Hopefully the few pages of this post inspires someone to live a more authentic life as well, or at least not want to kill themselves for being different."
In a later blog post the same year, Free refers to being closeted as "the glass coffin":
"…because a coffin is where we spend our death not our life and being closeted is like being visible to the world but dead to yourself while at the same time having no freedom to move or truly be yourself. Because you've constricted yourself to this box of hetero-conformity in an effort to garner social acceptance from people that most likely won't matter in five years. Everyone can see you and who you're trying to be but it's not until you break free from the glass coffin and choose to live and be fully present in who you were born to be that life truly becomes meaningful and you learn the true meaning of love and freedom."
Adrienne (Williams) McCue
In 2008, Adrienne McCue founded the Bi Social Network, an online media network emphasizing bisexuality in entertainment news, social issues, and politics. McCue felt that such a network was necessary because of the lack of bisexual information in traditional LGBT press. Her focus sought to combat biphobia and bi-erasure.
McCue is host of the blog talk radio show BiTalk Radio, a weekly show on bisexual topics.
In 2010, she created the "I am Visible" video series campaign to help solve the problem of bi-invisibility. In 2011, the White House honored her with an invitation – alongside fellow bi activists, Lani Ka'ahumanu and Sheela Lambert — to the June 29 LGBT Pride reception. McCue said she reacted to the invitation with shock and tears explaining that the inclusion gave her "validation that what I have been doing matters."
Orlando Jordan
Orlando Jordan is an American professional wrestler who was the World Wrestling Entertainment 2005 U. S. Champion.
He also appeared as a playable character in the video game WWE SmackDown! vs. Raw 2006.
Jordan — who was personally out as bisexual — used bisexuality as a gimmick for his wrestling persona during his stint with Total Nonstop Action Wrestling.
A YouTube clip of Jordan's flashy entrance to a match ends with a large bisexual symbol in the background as Jordan sits down between an attractive man and an attractive woman. He was often escorted to the ring by a male and female valet — one on either arm.
Jordan, who was also a collegiate All-American wrestler, is quoted in an Outsports article as saying, "I'm proud of a lot of things in my life, including my sexuality." He further elaborated, "I have always felt I am who I am, and have always stood by that. I don't ever worry what others think about me"
The Outsports article also quotes Jordan as saying about his wresting persona, "I really hope this character helps troubled teens, be it [those struggling] because of their race or their sexuality. If this character makes life even just a little bit easier for someone else, then I'll be really happy."
In reference to his decision to take the radical plunge of unabashedly flaunting his bisexuality in his wrestling world, he's further quoted as saying, "If everyone was a pioneer, it'd make things a lot easier. But that's not the case. And there's a price that comes with being a pioneer, but I would not expect anything less because that's who I am."
Amy Andre
Amy Andre co-authored the book Bisexual Health, published by the National LGBTQ Task Force. Her writings on bisexual topics have been published in Huffington Post, Bilerico Project, ColorLines, and Curve. Her work has also been featured in Cosmo, PBS, and CNN. She's given educational presentations at over 100 schools and events across the United States.
On Bi-Visibility Day 2013, Andre was among the 33 bisexual activists who met with federal officials at the White House for a closed-door bisexual roundtable.
Andre made the documentary On My Skin/En Mi Piel, about a mixed-race transgender man and his family. The documentary came out in 2006 and has been shown in film festivals around the world.
Charles Blow
Charles Blow is The New York Times' visual op-ed columnist, a CNN commentator, and a former art director of National Geographic Magazine.
During a stint as The New York Times' graphics director, Blow led the paper to a Best of Show award from the Society of News Design for information graphics coverage of 9/11, which was the first time the award had been given for graphics coverage. He also led The Times to its first two Best in Show awards from the Malofiej International Infographics Summit.
In his recently released memoir, Fire Put Up in My Bones, Blow writes in detail about his bisexual identity.
A Huffington Post article quotes Blow explaining why he chose to include his bisexuality in the book:
"One thing I wanted to do was just be visible… I wanted to say that, this is as permanent for me as it gets. I'm not 14, I'm not 24. I'm 44 years old. This is how I felt all my life. It does not feel to me in any way transitory. It does not feel like it's going to change. And I also wanted to say that there are people who may not fit what we conceive bisexuality to be."
In coming to terms with the bisexual identity, the Huffington Post article quotes him as saying:
"I wanted something that didn't exist. I wanted something that was so singular, a label that was so singular for me. I was so special —I was so different from everybody else I was meeting. And that I wanted a different label. And I had to say, 'Charles snap out of that. What are you talking about?' All identity labels are umbrella terms to some degree, but this term bisexual is not only serviceable but it is sufficient. And yes, it brings together a bunch of people who are maybe shades different from one another. And maybe that's the beauty of labels: that they force you to be with other people and see the difference."
Azealia Banks
Azealia Banks dropped out of the prestigious LaGuardia High School of Performing Arts where she was studying musical theater and by age 17, she landed a recording contract. Her popularity as a rapper, singer, and songwriter soared with her hit single "212," which The Guardian placed at number 2 on their "The Best Songs of 2011" list.
In 2011, Banks topped the NME "Cool List" and in 2012 she was third on the BBC's "Sound of Artists" list.
Banks off-handedly mentioned that she is bisexual when answering a question about her gay fans in an early 2012  Rolling Stone interview.
ABilly Jones-Hennin
Bisexual activist, ABilly Jones-Hennin — who was also very active in the antiwar and Civil Rights movements — is quoted in an article in The Best of Washington as saying:
"My consciousness and awareness led me to be active in numerous groups, all the while struggling with my identity as a bisexual male. African-American people don't have the luxury to simply address gay issues — there's racism, sexism, ageism. We have to wave many, many flags. If you had to choose between being a black activist or a gay activist, which are you going to be? Back in the day, this stifled the gay component of black society."
This conflict is largely what led Jones-Hennin in 1978 to organize the DC-Baltimore Coalition of Black Gays, now known as the DC Coalition. In 2007, the Rainbow History Project honored Jones-Hennin for being a community pioneer. According to their exhibit on him, the DC Coalition said:
"… [he] quickly established a public presence. As news of the group spread, chapters formed in other cities, leading to creation of the National Coalition of Black Gays (NCBG) – later renamed the National Coalition of Black Lesbians and Gays (NCBLG)."
1979 was a busy year for Jones-Hennin. That year he was the logistics coordinator for the first National March on Washington for Lesbian and Gay Rights, the co-organizer for The Third World Conference (the first national gathering of LGBT people of color), and co-organizer of the first federally funded national AIDS in the Black Community Conference.
He has remained active in multiple fronts to this day, including serving on or chairing boards of various nonprofits. As Jones-Hennin puts it in a Metro Weekly interview, "I am activist till death do I part."
Evidence of his continued fiery activism can be found in his presentation as the Keynote Speaker for the 2014 Because Conference (the annual conference of the Bisexual Organizing Project):
"I stand before you acknowledging that I have been in consenting poly relationships, marriage to a heterosexual woman, and for the last 36 years, in a committed, loving and open Same Gender Loving (SGL) Relationship with a bisexual man who I will be marrying in a few weeks.
"And if these loving relationships are wrong, Then I don't wanna be right or do right!"
Photo © by Patsy Lynch. All Rights Reserved, reproduced with photographer's permission. PatsyLynchPhotography.com
Frenchie Davis
Frenchie Davis was a second season American Idol contestant, and a semifinalist from Season 1 of The Voice.
She performed on Broadway in Rent for several years. Her other theatrical roles include, portraying Effie in a West Coast-touring production of Dreamgirls, and the Fairy Godmother in Rodgers & Hammerstein's Cinderella at the Berkeley Playhouse. She also starred in the 30th anniversary national tour of the musical revue Ain't Misbehavin'.
In 2012, Davis released a solo single, "Love's Got A Hold On Me," which reached #12 on the Billboard Dance Chart. Davis made her film debut in the 2014 comedy film Dumbbells.
Coming out in 2012, telling her fans that she had been in a relationship with a woman for a year, Davis is quoted in a St. Louis Dispatch article as saying, "I dated men and women, though lesbians weren't feeling the bisexual thing. Now I'm in love with a woman I think I can be with forever."
In 2013, she starred as the featured performer at the National LGBTQ Task Force's 25th National Conference on LGBT Equality: Creating Change. During the event, she said, "It's so wonderful to see all the young people here. You all are the reason that I chose to be out. Because it is important that you see people in the public eye who are not ashamed of who they are. It is ok to be true to you."
In 2014, Davis and her life partner — pianist and comedian Kathryn Lounsberry — opened a tour with The French and Kat Show, billed as a musical comedy cabaret.
Meshell Ndegeocello
An After Ellen article about bassist, singer, and songwriter Meshell Ndegeocello describes her "provocative" songs as being about "race, politics, misogyny, feminism, and yes, stealing another woman's man."
Ndegeocello has received multiple Grammy award nominations, and her music has been featured in major motion picture soundtracks, such as How Stella Got Her Groove Back, Lost & Delirious, Love & Basketball, Higher Learning, Batman & Robin and Love Jones.
An AllMusic biography of Ndegeocello says her musical style, "defied classification through progressive mixtures of jazz, R&B, hip-hop, and rock."
She's collaborated with the likes of John Mellencamp, Herbie Hancock, and Madonna, and appeared on recordings by Basement Jaxx, Alanis Morisette, ZapMama, the Indigo Girls, and The Rolling Stones. Ndegeocello was one of the first artists signed to Madonna's Warner-affiliated Maverick label.
"I'm the ultimate misfit," says Ndegeocello in a 1993 Los Angeles Times article, "I'm black. I'm a woman. I'm a bisexual." To which she adds, "I like being a misfit. It's more fun. It keeps you striving. Fitting in is too easy. I prefer not being like everybody else."
In a 1996 Los Angeles Times article she says, "Sometimes, I feel like I am under attack from every direction. People see me as a heretic. Homophobia is rampant in the black community, so I am a traitor to my race, and gay people don't like me because I'm not gay enough."
Tre Melvin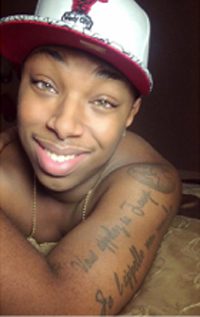 YouTuber sensation, Tre Melvin came out as bisexual in an in-your-face unapologetic video on the eve of 2014. The video is currently approaching 3 million views.
Melvin's YouTube sketch-comedy series This is Commentary debuted in 2011 and currently has nearly 2.8 million subscribers and nearly 260 million views.
Though most of his videos consist of comedic character sketches, his coming out video is filled with bold statements spoken with deep sincerity. He states unequivocally, "My New Year's resolution is to fully, utterly, and wholeheartedly be myself from this day forward and I can't seem to achieve this resolution without unmasking myself. I am bisexual."
Explaining further he says, "I've tried to change myself to meet the standards and the expectations of society and I am tired – I'm tired of caring about what people think and I am tired of living behind the masks, so I'm burning it."
Giving viewers more of a taste for what he went through in coming out to himself, Melvin says that he'd "Woken up one, too many mornings, hating myself, not even wanting to be alive because of what society tells me is right and wrong. No one should ever have to feel that way. God knows how many times I prayed for him to change me, how many times I have tried to run away from me, but somehow I keep catching up with myself. I can't keep running anymore."
June Jordan
The late June Jordan (1936-2002) was an author, activist and an educator. Her first novel, His Own Where, was nominated for the National Book Award.
In addition to her dozens of books of poetry, children's books, and an opera, Jones also wrote political columns for the Progressive.
2014 saw the publication of Life as Activism, a complete collection of her columns for the Progressive with a foreword by Angela Davis.
On the activist level, Jones believed strongly in the importance of recognizing the connections between all struggles for liberation, stating:
"As long as there are Gay and Lesbian Americans who view sexuality as the first and last defining facet of their existence, and who, therefore, do not defend immigrants against the savagery of xenophobic hatred… then for that long I am not one with you and you are not one with me."
About her bisexual nature, Jones said:
"Bisexuality means I am free and I am as likely to want to love a woman as I am likely to want to love a man, and what about that?… If you are free, you are not predictable and you are not controllable. To my mind, that is the keenly positive, politicizing significance of bisexual affirmation… to insist upon the equal validity of all the components of social/sexual complexity."
According to a Bilerico article, "Author and Nobel laureate Toni Morrison told the Associated Press that Jordan's writing life would best be depicted as 'Forty years of tireless activism coupled with and fueled by flawless art.'"
Several of Jordan's writings have been translated to other languages including poetry translated to Bengali.
(Article originally published February 27, 2015)
Azealia Banks
bisexuality
Black History Month
race