A Look Back at 10 Awesome Geek Wins From 2014
From the gleefully twisted antics of American Horror Story: Freak Show to new comic book releases of beloved sheroes Wonder Woman and Jem, 2014 proved a bonanza for TV, film and comic book geeks of every stripe. Here's 10 of the best wins from last year (and some sneak- peeks at what's coming next).
#1 – American Horror Story: Freakshow rolled onto television like a vintage glam tornado. Not only did star Jessica Lange channel Marlene Dietrich while covering David Bowie's classic "Life On Mars" (a rare and difficult move known as the Triple Diva Spin), the show boasted a supporting cast made up of real-life misfits who refuse to let their unique challenges limit them (sound familiar?). Among them was Erika Ervin, aka "Amazon Eve", a transgender model and actress who hoped the show resonates with queer audiences. It certainly seemed to.
#2 – Wonder Woman is beloved by many queer fanboys and fangirls, perhaps no incarnation more so than the iconic 70s TV Wonder Woman portrayed by Lynda Carter. Last year we learned that the adventures of LC's WW will be continued in a new comic book series by DC called Wonder Woman '77 that further explores the continuity set up in the classic TV show. Unfortunately, fans will have to provide their own satin tights. Hopefully, this will also tide over fans until 2017, when a Wonder Woman movie will finally hit the big screens after spending years in development hell.
#3 – We got great news from Marvel Comics' longest-running metaphor for the queer experience, X-Men, in the announcement that it might be coming back to television. Beyond a well-loved '90s animated show, the X-Men haven't made much of an impact on the small screen (and we'd like to keep thinking that the Generation X TV movie never happened).
But with the success of shows like Arrow, Gotham, and (OK, fine) Agents of S.H.I.E.L.D., the X-Men might now have another shot at a live-action TV series. Few details are available beyond its status as "in deep development," so no telling when the shirtless shots of the male leads will be made available.
#4 – Holy gender swap, Batman! We got a new Robin and he was a she. Turns out that Jena Malone will be the new Girl Wonder for director Zack Snyder's currently-in-production Batman Vs. Superman.
Malone previously worked with Snyder on his girl-power fever dream Sucker Punch, so she already has experience with over-choreographed, slow-motion fight sequences. This Robin is based on the character of Carrie Kelley, Batman's sidekick in the comic series The Dark Knight Returns.
While there have been some instances of heroes getting a gender makeover in comics (Thor is the most recent example), this is the first time a comic book film has portrayed a major male comic book character as a woman. There's no word yet whether or not this Robin will be in green tights or not. Presumably, part of Malone's costume might be purchased with alleged $5 million fine that will be thrown like a fresh batarang at the person who leaked the news.
#5 – Robin wasn't the only new casting news out of DC Comics. DC and Warner Bros. announced an ambitious slate of ten new films in six years, including one based on the superhero the Flash. While that isn't at all surprising given the character's long history in DC Comics, what is surprising is that openly queer actor Ezra Miller was cast as the red-suited speedster.
Miller, best known primarily for teen dramas, has no action film experience… but neither did Hugh Jackman, really, and look what happened to him. This Flash will apparently have nothing to do with the Flash currently on TV screens (because that's not confusing at all) and there's no indication yet which of the four comic versions of the Flash we'll see on screen.
#6 – He played a super soldier from the future, a dragon, and the world's greatest detective. And now actor Benedict Cumberbatch played the pioneering gay computer scientist and heroic World War II codebreaker Alan Turing in the film The Imitation Game.
In a recent interview, Cumberbatch said he would fight to the death to protect queer people from bigotry and religious intolerance… all in that dreamy, rich baritone voice of his. Cumberbatch previously showed his support for the queer community back in 2013, when he bowed out of promoting Star Trek Into Darkness at San Diego Comic-Con so he could officiate the wedding of two of his closest gay friends. That sound you hear is a thousand Sherlock Tumblrs exploding with new animated GIFs.
#7 – Shonda Rhimes, who'd written and/or produced at least one show that you might be binge-watching right now, proved a woman not to be trifled with, something a homophobic Twitter user found out the hard way.
When the Twitcritic complained about the sexy gay scenes in How To Get Away With Murder (which Rhimes produces), Rhimes gave her a decisive goodbye, letting her know her attitude was not welcome, even signing off with "Bye, Felicia." No scandal here, just a little shade.
Twitter is the battleground of choice for show creators and their homophobic critics: Glee creator Ryan Murphy was part of a furious Twitter fight with homophobic critics of his show back in 2010.
#8 – Not exactly a win so much as an interesting development the revolving door on actor Luke Evans' closet continued to spin in 2014. Evans made his name in sci-fi/fantasy films like Clash Of The Titans, The Hobbit, and the recent Dracula Untold, but he might be more well-known for his ever-changing sexuality.
Evans came out as gay in 2002, then suddenly seemed to go back in the closet in 2010, just as his star was starting to rise. Now, he seems to be taking another tentative step out with the classic "not discussing my personal life" move… and that slow dance is still more interesting than Dracula Untold.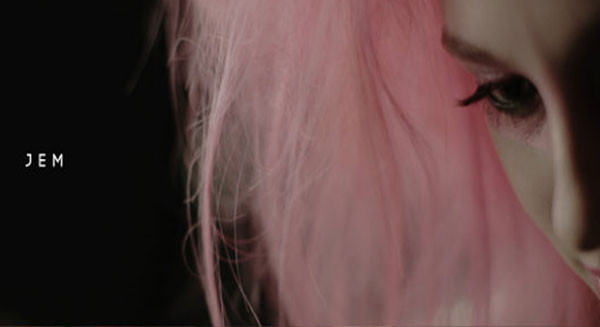 #9 and #10 – Finally, because no geek update is complete without a little/a whole heck of a lot of extra pink, the live-action film adaptation of the 80s cartoon Jem got an official release date of October 23, 2015, giving fans plenty of time to find just the right neon wig and matching heels to wear to the premiere/early celebration of the one of the High Holy Days of the queer social calendar.
Jem's fans are fiercely loyal, thanks partially to the show's celebration of glamorous pop music camp, but also for its constant message of inclusion and self-acceptance. The fact that several people involved in the show, like lead actress Samantha Newark, make a concerted effort to connect with queer fans also helps. Expect to see a LOT of 40-year-old gay men in big pink (or electric blue or toxic green) wigs next Halloween. Well, more than usual anyway.
Plus, the truly outrageous Jem will now have a comic book. Just in time for her 30th anniversary, '80s cartoon pop star Jem is getting her own comic from IDW Publishing. The glamorous, glittering, presumably hot pink title is set for release in 2015, possibly to coincide with the release of the live-action Jem movie (currently in post-production). When reached for comment, Jem's long-time rivals Pizzazz and the Misfits vowed revenge.
Johnny M Gayzmonic is a writer/geek/snarker/Fanboy of the Universe currently based in the frozen wastes of Minneapolis. He lives with his cats, his PS2, and his longtime companion, Sarcasm. You can follow him on Twitter, Tumblr or his SoundCloud.
Alan Turing
American Horror Story
Batman
Benedict Cumberbatch
DC Comics
Dracula
Ezra Miller
Luke Evans
Marvel Comics
San Diego Comic-Con
The Flash
Wonder Woman
X-Men