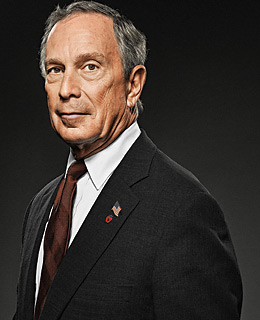 Bloomberg Finally Speaks Out Forcefully For Gay Marriage
New York City Mayor Michael Bloomberg has finally spoken out forcefully in support of gay marriage. After flip-slopping disgracefully in 2004 – in which he supported gay marriage during a private $1000-a-plate event for the LGBT community and then later publicly denied his support for marriage equality – Bloomberg is now a staunch believer in the cause.
Introduced by his niece Rachel Tiven, who is a lesbian, Bloomberg pulled out all the stops in a cohesive and powerful speech.
"When I meet a New Yorker who is gay, when I speak with…family members and members of my staff who are gay, or when I look into the eyes of my niece, Rachel, I cannot tell them that their government is correct in denying them the right to marry," he said. "I can't tell them that marriage is not for them. I can't tell them that a civil union is good enough," he said. "In our democracy, near equality is no equality. Government either treats everyone the same, or it doesn't. And right now it doesn't."
MSNBC Highlights:
Bloomberg's full speech:
marriage equality
New York State
queerphobia
USA