Last Night's 'Broad City' Was a Star-Studded Affair Featuring RuPaul, Sandra Bernhard and More
It's been a long time, but Broad City is back! The beloved comedy returned last week for its fourth season with an inspired Sliding Doors riff. As good as that episode was, though, last night's topped it, thanks to a plethora of guest stars. In episode 2, "Twaining Day," we got four huge guest stars.
First was Wanda Sykes, playing Abbi's new boss, Dara. Dara's one of the main designers — if not the head — of a design firm, and Abbi's her assistant. Abbi's duties mostly seem related to Dara's cat, though.
New jobs are the order of the day as Ilana gets hired at Sushi Mambeaux. Her new boss is Marcel, played by RuPaul. And one of her co-workers is Brenda, played by Sandra Bernhard.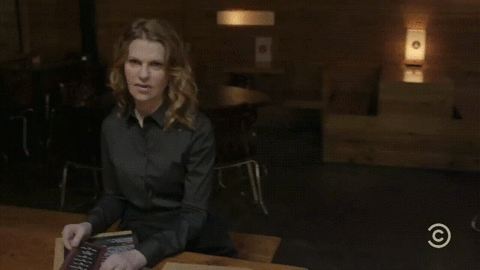 Since Sykes, RuPaul and Bernhard are all co-workers, we'll likely get to see them again, and we couldn't be more excited.
The other big guest star for this episode probably won't be returning but was still pretty great. Longtime fans of the show will know how Abbi has continually lied about training Shania Twain at Soulstice.
Even though Abbi quit her job there, her dream actually comes true when she goes back to the gym to get a misdelivered package. She happens to see Twain being trained by Trey and tries to get a photo of the singer. Trey and Abbi reconcile, and Trey lets Abbi make the lie a truth (before he breaks his penis while having sex in the sauna).
RuPaul's made a number of guest appearances lately. Previously, he appeared on HBO's Animals. He also made an appearance on this season of BoJack Horseman, in which Ru rightfully played a queen — of an anthropomorphic ant colony.
RELATED | This Week's Must Haves: A 'Broad City' Butt Plug, Baby Clothes and a Watch That Does Everything
It was a good week for queer icons on TV. This week's episode of Difficult People featured Mx. Justin Vivian Bond, who played one of Lola's friends from her trans sorority. The sisters were planning to take an ayahuasca trip in the restaurant, but plans went awry. Aneesh Sheth — who previously guested on NBC's Outsourced, making her the first South Asian trans woman on network television — also appeared as another of Lola's sorority sisters.
Broad City
RuPaul
Wanda Sykes