#CNNBeLike Brilliantly Skewers Mainstream News For Racist Coverage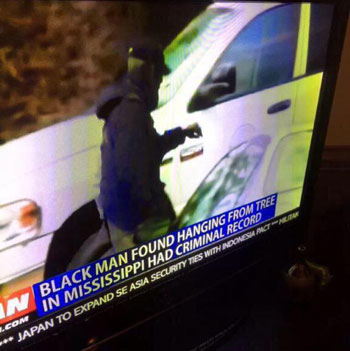 When CNN covered the hanging death of 54-year-old African American Mississippi man Otis Byrd, they chose to reference his previous criminal history (the 1980 murder and robbery of a woman for whom he was imprisoned until 2006).
But many wondered, why reference the criminal past of a man who had either committed suicide or was murdered? Would CNN do the same for a white suicide/murder victim? Many thought not.
So in response, Twitter users began using the hashtag #CNNBeLike to parody racism in the media. It's reminiscent of the #IfTheyGunnedMeDown hashtag started last year after mainstream media showed pictures of shooting victim Trayvon Martin in a basketball jersey flashing a peace sign (or as some news sites called it "a gang sign") rather than using a picture of him in his graduation robes. People began posting photos of themselves sloppily dressed alongside ones of them looking professional and asked, "Which photo would they use #IfTheyGunnedMeDown?"
While it makes sense for media to look into a victim's criminal history, there's a continued (and well-substantiated) perception of media bias against people of color. #CNNBeLike makes you think about how and why the media portrays people of different races with varying levels of sympathy, caution, ambivalence, indifference, or outright hostility.
https://twitter.com/adaezeone/status/581084960456617985
#Indiana gay discrimination law: #CNNBeLike, Legislators to "set record straight." Straight? Really? Choice of words, guys. Choice of words.

— Stephanie Weyant (@StephanieWeyant) March 31, 2015
#CNNBeLike "Self Defense" pic.twitter.com/XliPFFgsLB

— Bassem Masri (@bassem_masri) March 20, 2015
#CNNBeLike "Black man found dismembered in apparent suicide"

— 5'7 Black Male (@absurdistwords) March 21, 2015
#CNNBeLike "Officer who shot and killed unarmed black man shows injuries from the incident" pic.twitter.com/7WYunGV6Ga

— ReedXcv (@____Reedam) March 21, 2015
#CNNBeLike "Pregnant black woman arrested. Fetus likely had gang ties"

— 5'7 Black Male (@absurdistwords) March 21, 2015
#CNNBeLike Were Martin Luther King and Malcolm X really Black leaders, or thug, ex-cons with criminal ties? pic.twitter.com/sormi187i9

— LEFT✍? (@LeftSentThis) March 21, 2015
#CNNBeLike Hundreds of dangerous and suspicious looking black people found in a boat pic.twitter.com/pw9H2UKxnK

— Reverend Dr. Fleming (@alwaystheself) March 21, 2015
#CNNBeLike gang seen loitering outside official building pic.twitter.com/haW1up0W2Z

— Sean Lyles (@1stHiscrown) March 20, 2015
#CNNBeLike black man shot & killed by a cop – cop has been decorated & the black man was wearing green shoes (gang related) & once said fuck

— Newport Shawty (@Demetri_G_) March 31, 2015
#CNNBeLike 40 black people killed in a mass murder, but on March 12, 1963 one of those 40 was arrested for battery and assault

— art hoe ✨ (@torimani_) March 30, 2015
#CNNBeLike If you are just catching up white people can only be heroes otherwise they are mentally ill or being attacked. #AndreasLubitz

— TruthBeTold (@Big6domino) March 27, 2015
CNN is so trash. Their debates are tragic. #CNNBeLike "Is the N word worse or is 'Cracker' worse?"
* 3 white Christian men debate on topic*

— walid (@VVxLxD) March 27, 2015
https://twitter.com/FarsiTea/status/581244696892219392
#CNNBeLike White male kills family, eats family dog, and shot at officers is in custody.

— aswad (@UnkleDell) March 27, 2015
#CNNBeLike MUSLIM TEENAGER GOES ON SHOOTING SPREE IN CALL OF DUTY BC ISIS AND QURAN

— RNS. (@RianSyed) March 26, 2015
#CNNBeLike Plane crashed due to extreme turbulence, could Terrorists be to blame for the bad weather?

— ?? (@Rafaelaelael) March 26, 2015
#CNNBeLike 23 year old Caucasian Christian child of God sent both of his parents to heaven today

— . (@noregretzplut0) March 27, 2015
#CNNBeLike black unarmed male shot 15 times, cop says he wore suspicious sneakers and may have smoked marijuana last week

— Wesley King (@KingDUBington) March 30, 2015
"@bdbristow: #CNNBeLike 19 year old Caucasian Christian child of God sent both of his parents to heaven today"

— Lil Engine (@strangelilbird_) March 29, 2015
"@kylegotjokes: #CNNBeLike 23 year old Caucasian Christian child of God sent both of his parents to heaven today" pic.twitter.com/6PwihDCl4Z

— BarackAFellaRecords. (@JediMassaYoda) March 29, 2015
"@MattyMattHo: #CNNBeLike Systematic racism at its finest Demonizing black victims & sympathizing white killers pic.twitter.com/jU10NERhoV"

— $⛽️ (@Eazyy_E) March 29, 2015
Lolest RT@ShottaZee: #TopFavorite "@whtaprilsaid: #CNNBeLike Black man arrested on suspicion of looking suspicious.

— C'phe Sihle (@CpheDexter) March 27, 2015
#TopFavorite "@whtaprilsaid: #CNNBeLike Black man arrested on suspicion of looking suspicious."

— Nchema (@ShottaZee) March 27, 2015
#CNNBeLike 23 year old Caucasian Christian child of God sent both of his parents to heaven today""

— Hey, Mona Lysa (@Alise_BKBC) March 28, 2015
When white people kill innocent people their just misunderstood or need help, but when black people do it we're animals & thugs. #CNNBeLike

— OG' Lil Niggalito (@Cali_Fornicatin) March 28, 2015
Fuck CNN #CNNbelike #IBHM pic.twitter.com/561ImpVnio

— Verse & Papo (@ibhmpodcast) March 27, 2015
"@WalterFortson: #CNNBeLike "Curious crowd begins to gather upon finding apparent double suicide." pic.twitter.com/Xd8QHiLtvy" Damn Thats Sad Af

— TOAST TO THE GODS (@sklaw__suseJ) March 27, 2015
SCREAMING "@ChriStylezz: #CNNBeLike President Obama Shows Gang Sign Reminiscent Of His Haunted Troubled Past pic.twitter.com/6fCHTH4tKH""

— Dimakatso Mokoena ♥ (@Margstalicious) March 27, 2015
SCREAMING "@XLNB: #CNNBeLike Suspect was deemed dangerous due to his size. Cops were in fear for their lives. pic.twitter.com/zMImShAKpF"

— Dimakatso Mokoena ♥ (@Margstalicious) March 27, 2015
activism
CNN
race
Trayvon Martin
Twitter