Drag Nuns Save Dallas: My Evening With The Sisters Of Perpetual Indulgence
Sister Devlynn Redd knows she's not a cookie-cutter nun. She's standing on the back patio of the Dallas Eagle (a local leather bar) — her entire face pancaked in white with blood-red eyeshadow and red glitter lipstick.
She certainly doesn't look like one of the nuns who fit comfortably into the popular consciousness. You know, the conservative ones in habits that show as little skin showing as possible, the ones who appear in films like The Sound of Music. Devlynn wears a knee-length, skin-tight, black and midnight-blue skirt, lacy black pantyhose and a sequined black coronet with a black veil cascading elegantly down her back.
She pulls a cigarette from her purse, lands a miraculously perfect jump in high heels and yells, "I'm freezing my tits off!"
It's a rainy, chilly, nicotine-and-charcoal-grey November night in Dallas, and Sister Devlynn and other nuns from her house (the Abbey of the Lone Star), have manifested — that is, appeared in similar regalia and makeup — en masse. They float through the bar: their black habits and hosed legs fade into the floor's shadows as their distinctive, white faces and sparkling wimples shine upward into the light. They glide above the darkness.
A fellow nun, Sister Lawna Jocqui, has decorated her white face with acid-green-and-black contours, eyeshadow and lipstick. She'll host tonight's event ("Sleigh Ride in Leather") and feature a lineup of lip-syncing drag queens and flexing, leather-clad go-go boys. The Sisters will donate the event's proceeds to the DFW Leather Knights, who will in turn donate them to AIDS Services of Dallas, a group that buys food and medical necessities for people with AIDS living in the local metroplex.
Full disclosure: Sister Lawna has dressed me up in goldenrod briefs with white trim, black-and-white high-tops, a black leather harness, a heavy load of silver-and-gold necklaces and a black-and-gold Boy London hat. She'll auction the briefs off of me as part of the event fundraiser.
Okay, okay… all the clothes except the briefs belong to me. I showed up with them, fully prepared to take part so I could observe the Sisters more closely — tonight was the first time I'd ever formally met them. Sister Lawna had me choose the briefs from a stash she had with her.
When entering the dressing room to change into my go-go duds, a drag queen prepping for her own performance looked me up and down, pulled a cock ring out of her bag and handed it to me. "Wear this and you'll bring in more money," she said before tucking her dick into her ass crack.
Lit by the spotlight, Sister Lawna starts the show — her black habit embellished with rhinestones and green boa feathers that match her makeup; they glitter and shine as they trail from her coronet. Outside, Sister Devlynn tosses her cigarette, stamps it out, then comes inside to watch.
For two years, both Devlynn Redd and Lawna Jocqui have served as members of the national association The Sisters of Perpetual Indulgence (SoPI). Their house, the Abbey of the Lone Star, has been a registered 501c3 non-profit and fully professed SoPI house since 2011.
Every week, they and their fellow nuns manifest at multiple area fundraisers and awareness events like this one.
Sister Devlynn joined the Abbey after a suicidal bout of depression. A self-proclaimed outsider, she felt she didn't belong in any community. Craving a deeper human connection and purpose, she became hopeless. But then, she says, "I got to the point where I was like, I don't want [suicide]. I don't want that for me and I don't want that for others."
She continues as she sips her drink (a Diet Coke) and takes a drag from a Parliament I lit and gave to her: "I'm a freak. And I love it. And that's what I'm here for." Then she recites part of the vows she took to become a fully-professed nun, adding in her own personal manifesto: "I'm here to promulgate universal joy, expiate stigmatic guilt and serve the community. I'm here for the kids who don't have a scene, the kids who are out of the ordinary. My message to them is to love yourself and enjoy yourself and to have a good time."
Indeed, Sister Devlynn and her fellow nuns are showing the crowd a good time. All eyes watch performers who lipsync Christmas songs while stripping off their clothes and telling off-color jokes ("My Santa wears a thong and carries a cat-o-nine tails!"). Sister Lawna sings carols a capella while go-go boys pose and auction gaudy jewelry to the crowd.
By the end of the night, the Sisters have raised $1250 — an awesome amount by their standards.
Sister Eve Angelica, a founding member of the Abbey, says, "If you set a goal for the amount of donations you should get, you will always be disappointed. Anything we can give is good. Anything is better than nothing. We're here to do what we can for those who need us most." She has some of the hairiest arms I've ever seen. That's the thing about The Sisters of Perpetual Indulgence — they're all drag queens.
*     *    *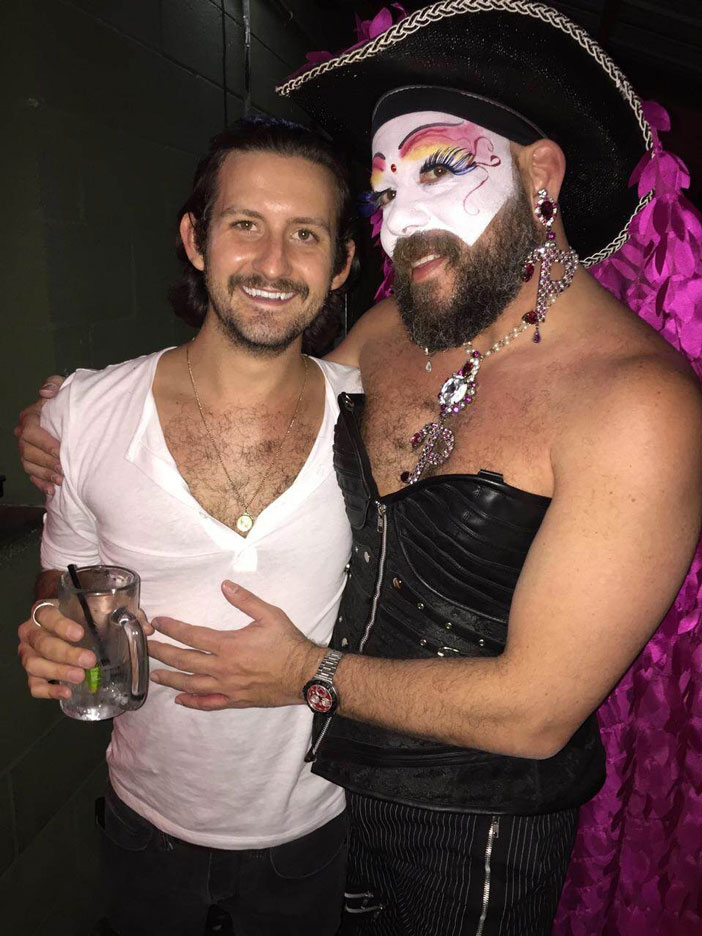 The Sisters of Perpetual Indulgence are part of a ragtag handful from across the globe who shared a collective "Sistory" beginning in San Francisco during the late '70s, pre-AIDS sexual revolution. In the months after Dan White assassinated Harvey Milk, the first Sisters manifested in the Castro district wearing "borrowed" habits. These men didn't wear white face yet, but they would soon.
In 1979, prominent gay and Native American rights activist Harry Hay called the first gathering of the Radical Faeries in Tuscon so that gay men might "[regain] our ancient historical roles as medicine people, healers, prophets, shamans, and sorcerers" and "throw off the ugly green frogskin of hetero-imitation." A handful of the original Sisters attended Hay's gathering and returned to San Francisco to begin building the Sisters as it is today.
They ratified a constitution, elected a board of directors and gained legal non-profit status, making sure to include membership levels paralleling the journey that actual Catholic nuns take (with newer members starting as Aspirants, Postulants, Novices, before becoming Fully Professed members).
During the '80s, the San Fran SoPI gained more members by amping up their presence, activism and visibility. They distributed the first sex-positive pamphlets promoting the use of condoms during AIDS' early days when it was still known as Gay Related Immune Deficiency or GRID. In 1983, Sister Florence Nightmare appeared on the cover of Newsweek and became known as "the poster boy for AIDS." They later held their first fundraiser, a bingo benefitting gay Cuban refugees who had been rejected by San Franciscan churches.
Sister Boom Boom, who had joined in 1980, won a seat on the San Francisco Board of Supervisors and then attempted to run for mayor but was booted out on a technicality because she didn't use her legal name on the ballot.
The Sisters conducted a public exorcism of rabidly anti-gay televangelist Jerry Fallwell — using dildos as talismans — just before San Francisco's 1984 Democratic National Convention. That same year, they came to Dallas to protest the Republican National Convention and the Republican Party's lack of policy on HIV and AIDS.
Because they dressed in drag as nuns — some of the most beloved and most recognizable figures in Christendom — they infuriated the Catholic Church.  And in 1987, they "proudly earned a spot on the Papal List of Heretics."
Likewise, they also proved to be divisive figures within the gay community. On World AIDS Day in 1991, Sister Grand Mother Viscious Power Hungry Bitch (Sister Vish) appeared in a BBC interview. The host mentioned, "Some of the gay community actually criticize you, and they say that you are trivializing their cause, and that you are not making AIDS into a serious situation."
Sitting calm and upright on a sofa across from the host, Sister Vish ripped pages out of a Bible, criticised the Church for its stance on homosexuality and replied, "AIDS is a shocking situation, and it requires shocking activities to solve this problem."
In an age of shock art — a crucifix submerged in piss, a shark submerged in formaldehyde, earrings crafted out of fetuses — the SoPI fit smoothly into a larger artistic and cultural narrative. Their appearances and messages shock people. As with the BBC interview, the media portrays them as a group whose physical presentation and radical messages of acceptance, understanding and tolerance overshadow their social contributions.
Before they announced their plans to attend the 1984 RNC in Dallas, "the very conservative gay newspaper [ran] weekly editorials about how the San Francisco Sisters of Perpetual Indulgence were 'ruining' the efforts to attain gay rights in the U.S." The paper even went so far as to disinvite them from attending the convention.
*     *    *
Despite their controversy, the SoPI have never stopped gaining members. Well into the twenty-first century, they've opened more than 80 houses and orders around the globe. Perhaps their proliferation has made their public appearances less shocking, and the public more receptive to their message.
Sister Victoria N. Cheezus — a fully professed member of the Abbey of the Lone Star — says their familiar whiteface makeup helps. The Sisters embraced the white face makeup between 1984 and 1987. Now, she says, "Whenever someone walks into a room [and sees us] they know who we are. They go, 'That's a Sister of Perpetual Indulgence and they have what I'm needing. They have the resources.'"
She hands me a business card. On the back are names and numbers of nine local educational, food, medical and shelter outreach groups. Another Abbey member, Sister Polly von Acocker, carries "bliss kits" (condoms and lube) in her purse, as do most of the Sisters. At the end of the night, a tall, blonde boy in his early twenties approaches Sister Polly and asks for one. She fishes through her purse, hands him one and tells him to have fun. She gives a kit to me as well. She's put a sticker on it printed with information about local STD testing and AIDS resources.
"That's what we're here for," says Sister Polly says, pointing at the bliss kit as the boy walks away to continue making out with his hookup in the corner of the bar. "That boy wanted to have fun tonight and he wanted to be safe, and he knew we would have what he needed to be safe." She looks down, below my necklaces and harness, at the briefs I'm wearing, bats her mile-long eyelashes and adds: "I hope you're safe tonight, too."
Since the Abbey of the Lone Star became a fully professed house in Dallas-Fort Worth three years ago, they've hosted many local educational and fundraising events like Sleigh Ride in Leather, a gay bingo series and predominantly gay pool parties during the summer. Its members, like most other SoPI houses, not only manifest in the flesh at events, they also manifest online, maintaining an active social media presence to tackle new queer problems of the digital age while spreading their message to an even larger audience.
For example, in mid-2014, Facebook began enforcing its name policy by deactivating users with pseudonyms unless their profile names matched those on official state documents. In turn, Facebook deactivated Sister Blanche Davidian of the DFW Abbey's profile, along with countless other Sisters' and drag queens' profiles throughout the country. In San Francisco, Sister Roma — a 20-year member who daylights as an art director for gay porn flicks — made national news with a now-infamous post protesting the company's action, arguing that such sudden and narrow enforcement of the policy was "unfair, hurtful, discriminatory and an invasion of privacy."
Thousands of Facebook users rallied around Sisters Roma and Blanche and migrated to other social networks like Ello. In San Fran, Sister Roma spearheaded meetings with Facebook executives to explain how their sudden enforcement disproportionately affected the transgender and drag communities, as well as victims of domestic abuse and others who use alternate names on social media. In response, Facebook's Chief Product Office Chris Cox eventually apologized for the company's unilateral action, stating that "everyone on Facebook [should use] the authentic name they use in real life. For Sister Roma, that's Sister Roma."
Other Sisters throughout the country use online forums for outreach and activism as well. Sister Iona Dubble-Wyde from San Diego frequently posts on Facebook about the latest findings in HIV research, particularly PrEP drugs (which she encourages her followers to use). Sister Sparkle Plenty from Minneapolis promotes a rather populist agenda on her Facebook, advocating for an anti-consumerist lifestyle and suggesting followers shop at local mom-and-pop shops instead of big-box retailers like Wal-Mart.
The growing SoPI presence and political conversations — both online and in real life — has evolved their membership from a small group of gay, white, male drag nuns to a international network of activists, fundraisers and philanthropist nuns of varying race, gender orientation, and sexuality, including actual women who, for all intents and purposes, still dress in drag.
*     *    *
According to the Abbey of the Lone Star, the Sisters dress as drag nuns not to mock Catholic nuns, but because they are nuns:
"[the Sisters are] very dedicated to our calling and our vows reflect our commitment to our community. If you look at the work traditional nuns do, and then look at the work we do, you will find many similarities. They minister to their community. We minister to our community. They raise funds for the needy. We raise funds for the needy. They are educators. We are educators. See any significant difference? The list goes on and on…"
Sister Victoria, explains all this as we drink on the patio of the Dallas Eagle. At this point, I'm used to the cold night air, though I'm not exactly comfortable — several men have pulled the goldenrod underwear away from my stomach, looked down at my junk and then smiled as they snap the waistband back onto my stomach and walk off. Sister Victoria's warm and comforting conversation makes a good break from having men continually scope out my dick.
She explains one distinction she makes between Catholic nuns and Sisters. "We're not a religious group," she says. "[But] our job is to minister to the queer community. That's gay, lesbian, transgender, anyone who is not normal — we're their nuns… Sometimes people just need to get things off their chest. Our white face to people is kind of like a blank slate; it makes us anonymous, and that helps people open up. They know us, but they don't know me because they can't tell who I am. They come and they confess."
Sister Devlynn, standing beside Sister Victoria, pulls another cigarette from her purse, lights it and blows a silver jetstream of smoke. She looks into the night sky and says: "One time, we were all [in the gayborhood] and this kid came up to us and said, 'I haven't been tested for HIV, and I'm really scared and I'm really nervous.' He was in his early twenties, maybe 23. And that's a scary thing for someone of that age, to have to face it and realize it's time. So one of us went with him to go get tested and Sister Victoria sat with him through the whole thing, and then they went out and had lunch."
Sister Devlynn flips her cigarette around in her fingers and says, "A nun is a person who says 'There is something that is greater than I am, and I'm going to be a service to that power.' Take Mother Teresa. When she got older, she even went against the church and denounced a lot of its teachings. But what she did was say she was there to help."
A postulant (junior member) named Kitty von Delballs who stands near Sister Devlynn adds, "I didn't get into this because it's a religion. It's more of, I saw a group of people who set out to help others in the community and I wanted to join them."
*     *    *
Inside the bar, Sister Blanche Davidian, 6'4″ in heels, towers over the crowd as she glides around greeting fundraiser attendees. Her legal name is Bruce, and he's an ordained minister. But Blanche is different from Bruce — she's a personality he created to conduct the outreach and activism he felt he was called to do.
After wanting to be one a Sister for more than thirty years, he joined as soon as the Abbey of the Lone Star became a fully professed house. Standing before me now, she smells of vetiver, oud, rosewood and tonka bean. She has a white face full of laugh lines that crawl beneath her coronet and around the edges of her glittery, deep-purple lips. Bruce would never wear a dress, she says, but Sister Blanche does because there's a message to be delivered and causes to support.
She and Sister Victoria envision a new ministry for the Sisters and a new problem for the queer community to tackle in the future: putting an end to infighting.
"I'm sixty years old," Blanche says. "I remember when the lesbians and the drag queens and the transgenders and the gay men stayed completely separate." Her voice rises above the electronic music playing in the bar so all around her can hear. "And then HIV struck and we all came together. And now we're drifting apart again, and we just need to get a grip."
The people hearing her ministry nod their heads and raise their glasses and cheer "YAAAAAS!" as they drink and resume dancing. I'm still half-naked and cold, wearing the shiny briefs that Sister Lawna will auction off me soon for $80. I join the hubbub, crying out, "Preach, Sister, preach!"
Previously published March 21, 2015.
Dallas
religion
Texas