'The Exorcist' Showrunner Has the Best Response Ever to Those Offended by His Show's Gay Kiss
In season 2 of The Exorcist, two characters kissed. That wouldn't be newsworthy except it was two male characters. And, well, as there are more and more gay kisses, it's becoming less notable. But what is notable is the showrunner's response to those who were offended by the Exorcist gay kiss. And we're living for it.
In an interview with Sci-Fi Bulletin about season 2, showrunner Jeremy Slater was asked about any backlash against the kiss between Marcus Keane and Peter Morrow in episode 6. Slater didn't mince any words:
I don't think there was that much of a backlash. I saw a couple of homophobes on Twitter and my response is, "Good, fuck you. I'm glad you didn't like it, I'm glad it ruined the show for you. You shouldn't have good things in your life." If a homophobe can't watch the show any more because one of the characters is gay, then I'm glad something good has come out of it. This is 2017 and we still have people throwing temper tantrums on line because they don't want to see gay characters. I think it's the last gasp of a certain breed of dinosaur that's on the way out, and let them kick and scream as they go.
Slater also mentioned that viewer reaction was "99% positive." He also pointed out that it's important for people to see themselves on screen, especially with older characters like Marcus and Peter.
Marcus Keane has always been written as a bisexual character — which is important too, since male bisexuals on TV are surprisingly rare. Slater said:
We've said from the beginning that Marcus is a bisexual character, which is pretty rare on television in general and certainly on network television, where everyone has binary definitions of gay or straight. Getting to explore all facets of his sexuality and character is really something that we didn't get a chance to do in season 1, not because we didn't want to, but because we didn't have the time to do it. By the time we had introduced the character and brought him into the orb of Tomas and kickstarted everything that was happening and desperately trying to save Casey Rance, we never had that opportunity to go out and introduce a love interest for the character.
We had little moments of flirting, a little flirty glance in a bar, to clue the audience that this thing that you think you're seeing is actually there but I knew coming back to season 2 that it was very important and we had to work this into the plot in a natural way and do justice to it. We didn't want to be coy and just dance around his sexuality for another season.
Right on! (And pardon us if we keep the phrase "You shouldn't have good things in your life" in our back pocket for future homophobes. That is a masterpiece of a sentence.)
Watch the Exorcist gay kiss below: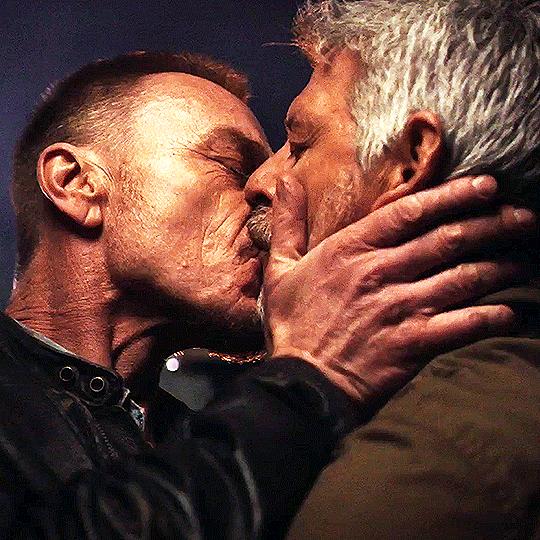 The Exorcist airs on FOX every Friday night at 9 p.m./8 p.m. Central.
Featured image courtesy of FOX