Got A Friend With A Serious Illness? These Sympathy Cards Will Show How You Really Feel…
Over 14,483,830 people in the U.S. have cancer. Chances are high that you or someone you know who has had cancer, been in chemotherapy, or known someone who died from it. And having gone through that, you know inadequate words can feel when faced with something so threatening.
At age 24, Los Angeles-based designer Emily McDowell got diagnosed with stage three Hodgkin's lymphoma, with cancerous cells detected in lymph nodes or organs both above and below her diaphragm. After nine months of chemotherapy, she's been cancer-free ever since. Now 38 years old, she still remembers how uncomfortable the sympathy cards she received made her feel:
"'Get well soon' cards don't make sense when someone might not. Sympathy cards can make people feel like you think they're already dead. A 'fuck cancer' card is a nice sentiment, but when I had cancer, it never really made me feel better. And I never personally connected with jokes about being bald or getting a free boob job, which is what most 'cancer cards' focus on."
So, she said, "I created (a) collection of empathy cards for serious illness because I believe we need some better, more authentic ways to communicate about sickness and suffering." We have the complete collection below, and they're pretty great.
Even if you've never heard of Emily McDowell, perhaps you've run into her work. Her "awkward dating" Valentine's Day card (right) went viral, giving her the inspiration to "identify universal, emotional truths and observations on being human, and turn them into products that speak to people."
Her studio's totes bags, greeting cards, coffee mugs and other goods tout such emboldening thoughts as "I am not afraid of storms, for I am learning how to sail my ship," "Don't shush your inner voice. It's who you really are," and "I will not compare myself to strangers on the internet."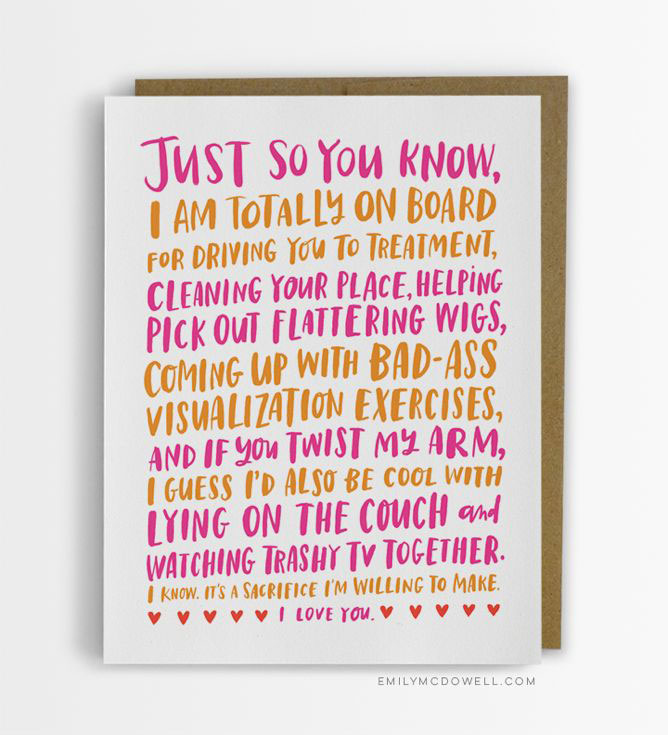 cancer