iPhone 7 Commercial Features Cute Gay Couple!
Yesterday, Apple just announced the iPhone 7 — depending on your geekiness quotient, you may have even watched the announcement live! While we're still not really sure about the decision to dump the headphone jack, there is something we unequivocally love. Mainly, this advertisement featuring an adorable gay couple on the subway!
The advertisement features various young, hip users exploring the new features of the phone. One shot includes two gay men cuddling in a New York City subway car, watching a video of a man playing drums in a subway station.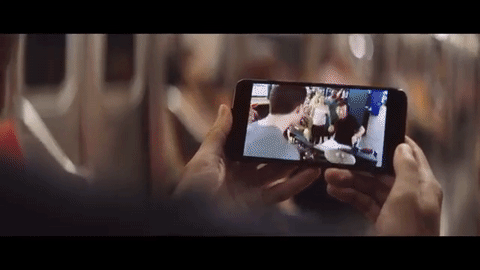 This makes sense — last month in the Washington Post, Apple CEO Tim Cook talked about wanting to empower young queer people. Cook was talking about the OpEd he wrote where he came out, but as we've seen time and time again, representation matters. If queer kids can see themselves in media, they'll feel better about themselves. And like it or not, advertising is a big part of our cultural landscape.
And besides — aren't these guys super adorbs?
Apple
coming out
iPhone
LGBT ads
New York State
Tim Cook