What 'Looking' Star Russell Tovey Doesn't Get About Being 'Butch'
"I feel like I could have been really effeminate if I hadn't gone to the school I went to, where I felt like I had to toughen up. If I'd been able to relax, prance around, sing in the street, I might be a different person now," openly gay, 33-year-old actor Russell Tovey recently said in an interview with The Guardian. "I thank my dad for that, for not allowing me to go down that path. Because it's probably given me the unique quality that people think I have."
"Unique quality" referred to his ability to his apparent butchness that has landed him a non-gay role in an upcoming BBC television drama.
A few days after the release of the interview (and public rebuke by many in response to his comments), Tovey tweeted the following apologies:
"I surrender. You got me. I'm sat baffled and saddened that a mis-fired inarticulate quote of mine, has branded me worst gay ever / If you feel I have personally let you down, I'm sorry, that was never my intention / I'm proud to be who I am and proud for others We're in this together, I want you to know whatever you think I meant, I didn't"
Below, San Francisco writer Eric Phanngavong responds to Tovey's apology and shares his opinions about growing up gay, effeminacy, and the consequences of Tovey's thinking:
Russell Tovey's half-ass apology for his insensitive and ignorant comments about masculinity and femininity really spoke to the sexist and misogynist culture prevalent in our gay communities. In his apology, there's no real explanation for what he is apologizing for.
We live in the most gendered society in the western world and by adapting to this binary, we lose touch with our natural selves and our innate way of being and loving. As a public figure, he should be taken to task for his public statement. And this article is not about discrediting his opinion but adding another dimension to the controversial subject matter.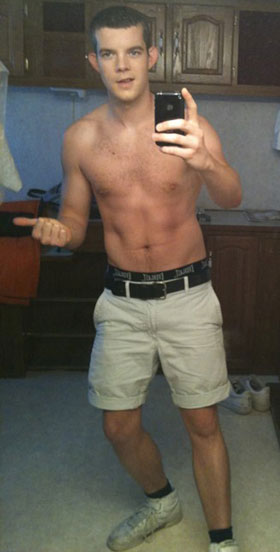 Young boys and girls are socialized to conform to a gender binary even though studies have shown that gender is socially constructed and exist on a continuum in different cultures across the globe. We start to gender-conform our children early by differentiating what colors they can wear and what toys they can play with. But we should really be asking ourselves, who are the ones making these rules and do these rules limit the potential of our children?
Even though I had very supportive parents and my coming out process was much easier for me than some of my friends, I vividly recall a moment in my childhood, where I had to struggle to be heard to feel human.
One year for Christmas, I told my mother while we were shopping at Costco that I wanted the purple bike with streamers on the handles. Per my wishes, my mother got me that bike and I was beyond ecstatic about my new toy. My father, however, was not happy. He got into an argument with my mother and then told me that boys didn't have streamers on their bikes. My father decided that I would have to do without the streamers and cut them off. I cried all day.
The next morning, I woke up feeling just and entitled to my streamers and I wanted to let my father know that I was going to get what I wanted. I asked my younger sisters if I could have their old Barbie dolls. I then duct taped those dolls to my handles and took my new bike out to show my friends. I have never felt so free and vindicated for who I was or what I would eventually become.
As I look back at my house, I saw my dad waving and smiling back, not defeated, but proud. Looking back, I know that was when my father accepted me, not as a boy but as a man; a man with the courage and vindication to define his own way of living and loving himself.
We should not adhere to the currency of prescribed hegemonic masculinity, but rather create our own path with integrity of character and the courage to define our own identities. As gay men, we have vilified our sissy brothers for how they act, when in fact, we should honor them for living their truth in the face of a misogynist and sexist culture that some of us have unknowingly perpetuated.
To stand out and stand up for who you are and what you believe in is the real act of courage and what really define the substance of a man. And to end with the words of a well known faggot, y'all better sissy that walk.
#strugglebuildscharacter #shecametogiveityou #herstory #tellher
Looking
masculinity
Russell Tovey