We Need to Talk About That Sexy, Scruffy 'Orange Is the New Black' Striptease
Warning: This post contains some very handsome spoilers from Season 5, Episode 4 of Orange Is the New Black.
Season 5 of Orange Is the New Black was released on Netflix this past Friday, and we were all reunited with our favorite Litchfield loves (except for Poussey ? R.I.P).
We were thrust right back into the wildness that was the Season 4 finale, aka the beginning of a prison riot.
Without giving too much away, this season is full of insane drama from beginning to end. But we're not here to talk about any of that. We're here to talk about one specific scene.
A scene that contains one very otter-tastic Orange Is the New Black striptease.
As the inmates have taken control of the prison, the staff members are forced to take part in "Litchfield Idol" or "Litchfield's Got Talent," depending on whether you ask Leanne or Angie. In this talent show, one of the guards performs a striptease that demands your attention. Any guesses who?
Look at that smoldering, seductive shoulder roll. Did you know Stratman had this in him? Because we sure as hell didn't.
*Gasp* Oh, he's hairy. Very hairy.
We don't even know if that's a legit dance move. But we love it.
TAKE IT OFF.
We're right there with you, ladies.
Yes, daddy.

Look, he'll even fight for your honor. What a stand-up type of guy.
Why can't we all be this floor right now?
Take the damn shoe off already, Leanne!
He lets you look and touch.
The. Pants. Are. Coming. Off.
Now he's gonna take a break from dancing and do push-ups in his undies. Cool.
He's showing us that his hips are as fluid as we hope his sexuality is.
Pop that booty, my good sir.
There's a bit of anger in that swing. He's probably thinking, "Why is the first Orange Is the New Black striptease happening so late in the game? There should be thousands more!" 
And now's he's teasing that pale white booty.
Shake it, Stratman!
WE'RE DYING.
He's not seriously taking off his skivvies, is he? Oh, sweet Jesus, grab me some water. He is.
Oh, damn. Now he's naked.
Wait, no, he's literally got a cock sock on, and it's the luckiest sock in the world.
Yes.
More yes.
Yaaaaas.
Why on earth was this person cast as a meth-addicted, blonde, ex-Amish woman over us? It's not fair. That should be us gently grazing his body.
Like you need anymore applause…
C'mon, Stratman, really?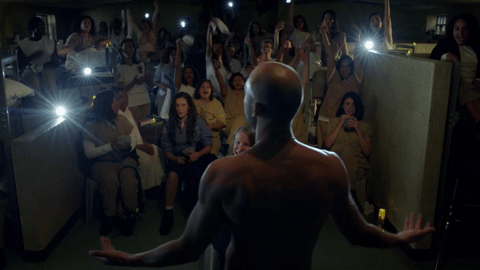 Um, I'll take that sock if you're done with it, please.
Stratman may have lost "Litchfield Idol," but Evan Hall has earned a place in all of our hearts. Now go take a cold shower, people.
What did you think of Evan Hall's otterish Orange Is the New Black striptease? Have you seen the full season yet? Let us know by commenting below!
#TooHotForApple
Netflix
NSFW
Orange Is the New Black