PICS: Every 'Graphic Depiction of Sexuality' From Alison Bechdel's 'Fun Home'
As a literature lover, it's always a little exciting when someone raises a kerfuffle about controversial books. On the one hand, the objections are almost always raised by people that haven't actually read the books they're complaining about, but on the plus side, people still believe that books matter! That's exactly the case with a brouhaha at Duke University over Alison Bechdel's graphic memoir Fun Home, which was mailed to all incoming first-years at the beginning of the summer. Duke's Common Experience program is intended to provoke discussion at orientation events, but this year's book selection led to some students feeling offended.
Along with books like Maus and Watchmen, Fun Home is one of the most highly regarded pieces of drawn literature ever written. In 2009, Time called it one of the top 10 graphic novels ever written; it's a memoir, not a novel, but still. Based on the author's own life, the book tells the story of a young lesbian raised by a closeted gay funeral director.
Earlier this year, a musical adaptation of the book won the Tony Award for Best Musical. At this point it's a pretty entry-level title in the canon of 21st century American literature. I hadn't read the book in a while, so I went to my local public library, where the book is appropriately shelved with Young Adult titles. Scanning it quickly, I encountered a couple of boobs, one patch of pubic hair, and one naked male corpse. (Fun Home is short for Funeral Home. Bechdel's dad was a mortician. That part's not meant to be sexy.)
Brian Grasso wouldn't know that, though, since he's not reading the book. The Cumming, Georgia native feels marginalized by the school's decision to teach the book, seemingly since it does not refer to the experience of straight white Christian males: "Duke did not seem to have people like me in mind," he said. "It was like Duke didn't know we existed, which surprises me."
Grasso's Facebook page is private, as is the Class of 2019 Facebook group, but his words were reprinted in the Duke Chronicle, a student paper. Grasso's public list of literary favorites includes the Bible, a lot of contemporary Christian music and this very preachy movie called God's Not Dead that stars ex-Hercules Kevin Sorbo and ex-Superman Dean Cain. Grasso also likes Family Guy, which apparently doesn't violate his religious convictions despite the fact that creator Seth MacFarlane is a vocal atheist and that show is about as immoral (from a Christian viewpoint) as network television can get.
Duke, lest we forget, is a sports powerhouse named for a North Carolina tobacco baron. The university has found itself mired in a number of scandals over the years, from cheating jocks to an infamous rape scandal involving the lacrosse team and more recent accusations against a basketball star.
It's rare for books to be formally challenged at the college level, but Fun Home is no stranger to controversy. It's been challenged (that is, people have requested its removal from the curriculum) by outraged students in Utah, South Carolina and most recently in California.
Grasso never filed a formal complaint, although he did publish an editorial in the Washington Post explaining that disinterest in the book stems from specific images and not from the book's queer themes:
"If the book explored the same themes without sexual images or erotic language,I would have read it. But viewing pictures of sexual acts, regardless of the genders of the people involved, conflict with the inherent sacredness of sex. My beliefs extend to pop culture and even Renaissance art depicting sex."
Simon Partner, professor of Japanese history and director of Duke's Asian/Pacific Studies Institute, served on the summer Common Experience selection committee, and he knew that the selection of Fun Home would lead to some ruffled feathers:
"Because of its treatment of sexual identity, the book is likely to be controversial among students, parents and alumni. I think this, in turn, will stimulate interesting and useful discussion about what it means, as a young adult, to take a position on a controversial topic."
Grasso and the other disgruntled freshman may not be bad people. Teenagers are known for having firmly held convictions, after all. His Washington Post bio claims that he "is passionate promoting economic development in sub-Saharan Africa," which is noble if a little frightening considering what American Christianity hath wrought in places like Uganda. It's just a shame to hear that anyone just entering the realm of higher education would take such a firm anti-education stance. It's also a shame that they'll miss out on a great piece of American literature. But there's still time for them to open their minds and, for that matter, to change their majors.
Oh, by the way, here's every image from Bechdel's Fun Home that could be construed as even slightly 'pornographic.' You'll see that most of it is pretty tame.
A mention of molestation and sex with men
A scene of Bechdel's dad 'grooming' a teenager through English literature
One of several scenes where Bechdel feels herself up while reading
Corpse pubes
Corpse dick
A mention of sex with teenage boys
Bechdel's dad shirtless
Use of the word "faggot"
Bechdel's shirtless dad again and a mention of "chickenhawks"
Lesbian oral sex with an exposed breast
A nude woman on a calendar
Naked lesbians talking in bed (shown from mid-breast up)
Swimsuit snapshots
Lesbian legs and panties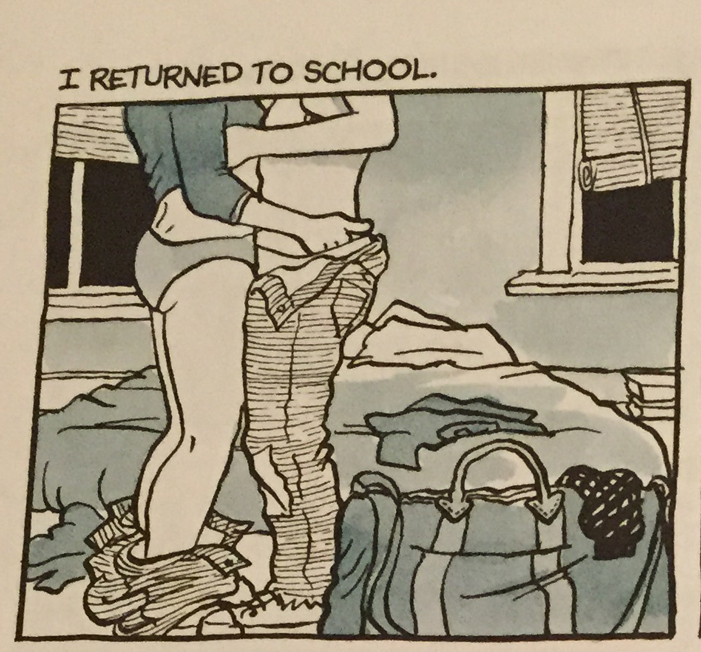 Yet another picture of Bechdel reading while masturbating (hey, she really loves books)
The word "orgy"
More lesbians reading together while naked (another exposed breast)
Yet more naked reading (this time with a breast and a butt)
A mention of Bechdel's dad grooming young lovers
An image of a teenage boy in briefs
A thumbnail of shirtless men in undies and a swimsuit
Use of the word "shit"
A mention of Sodom and Gomorrah, in French
A nudie calendar (with breast and butt)
Use of the word "fag"
A shirtless adolescent female in her panties
A mention of descended testicles
A mention of a woman's period
A mention of Bechdel's dad cruising for young dudes
A mention of group sex
More talk of periods
Bechdel mentions her erotic awakening
A meditation on the word "orgasm"
Mention of Bechdel's dad drinking with minors
A bare chest
Achingly pubescent breasts
Alison Bechdel
Fun Home
memoirs
NSFW
USA
women
youth