PICS: It's Hard To Find Committed, Recurring Gay Couples In Animated TV
They're tiny, they're toony and some are even a little gay! Over the past few years, gay cartoon cartoon characters have appeared more frequently in the animated world. There have been characters like Bug Gribble — the estranged, closeted cowboy father of Dale Gribble from King of the Hill. But even though Bug Gribble became an important LGBT character in animation history (snagging his show a GLAAD Media Award nomination in 2002) he only appeared in one episode entitled "My Own Private Rodeo."
Truth is, most animated gay couples pop-up like Bug and his gay, Latin lover and then disappear forever, perhaps because people still think of cartoons as being for kids and homosexuality as an "adult" theme. So it's all the important to explore and celebrate the history of gay couples in animated television series that appear more than once because they represent a large, rich community of real people through in-depth characterization.
Though we had originally planned on doing a list of 10 recurring gay cartoon couples, it proved difficult with our criteria:
1. The characters must not be genderless: There are plenty of characters like Ruby and Sapphire from Steven Universe who identify as one gender but are ultimately genderless and are shown to be in a relationship. I didn't want any blurred lines on whether or not the characters are actually involved in the lesbian and gay community if the characters themselves are not solely male or female. If the character(s) is/are genderless someone could argue that the couple is not actually a gay couple.
2. The characters in the relationship must be main/consistently recurring: We thought about including Terry Kimple and Paul from The Cleveland Show, but Terry appears in over 40 episodes whereas Paul appears in just five episodes. Yes, they're a couple who were legally married in in season two, but Paul was never a main character in the series. If the couple was not a prominent fixture on the series, we couldn't really count them as a recurring characters in gay cartoon coupledom.
3. The TV show should be widely known: Research revealed plenty of gay characters in anime/manga animated series but mostly from series most folks have never heard of like Sakura Trick, Inugami-san to Nekoyama-san and Cardcaptor Sakura. All feature gay characters and same-sex relationships, but we found it difficult to confidently verify the couples and their histories.
4. The characters must be in a committed relationship: Gay characters appear throughout the history of animation, but gay couples are fewer and farther between. We hoped to discover a world of happy, long-term gay couples but we found that many couples never made it down the aisle (Patty Bouvier and Veronica from The Simpsons), switched partners frequently (the entire gay community on South Park) or that the characters weren't allowed to explore their homosexuality due to certain countries where the series is aired (part of the reason that Marceline and Princess Bubblegum from Adventure Time never dated despite the show's creators confirming that they had).
We don't have a hang-up about monogamy, we just wanted to find couples with longevity and, thus, greater impact — not a Ross and Rachel necessarily, but just a well-known couple that everyones knows is together.
That's all we wanted! But ultimately, with our criteria, we got left with Greg Corbin and Terry Bates from American Dad, the couples from Rick & Steve: The Happiest Gay Couple in All the World, and Korra and Asami Sato from The Legend of Korra — barely.
Greg Corbin and Terry Bates from American Dad
Greg and Terry are news anchor partners and life partners. Greg is a member of the Log Cabin Republicans and Terry is the son of Washington Redskins football player Tank Bates. The pair have been together since the start of the series with one brief breakup when Democrat Terry finds out Greg is a Republican. They expanded their family in season four episode seven with a daughter named Liberty Belle born via surrogate.
Evan & Chuck, Dana & Kristen and Rick & Steve from Rick and Steve: The Happiest Gay Couple in All the World
The short lived (two seasons and 14 episodes) series of Rick and Steve followed three gay couples. Evan Martinez and Chuck Masters have a 30-year age gap which has a tendency of getting in the way of their relationship. For example, the 19-year-old Evan would rather go clubbing but the HIV-positive, partially paralyzed Chuck is grumpy.
Dana Bernstein and Kristen Kellogg are the lesbian couple with a baby daughter named Dixie. Rick Brocka and Steve Ball are the stars of the show: Rick is a homemaker and computer programmer and his husband Steve is a dumb, good looking and rich real estate broker. They love each other greatly but Steve does seek a more exciting sex life.
Korra and Asami Sato from The Legend of Korra
Korra and Asami are best friends and Team Avatar. Korra is a bender who can manipulate elements water, fire, earth and air and Asami is a non-bender. In the very last scene of the series, the pair is shown holding hands, and gazing into each other's eyes leading people to believe they had feelings for one another. Co-creator Michael Dante DiMartino told Escapist Magazine the end of the series dealt with important "subject matter" and later confirmed that they are in fact a couple.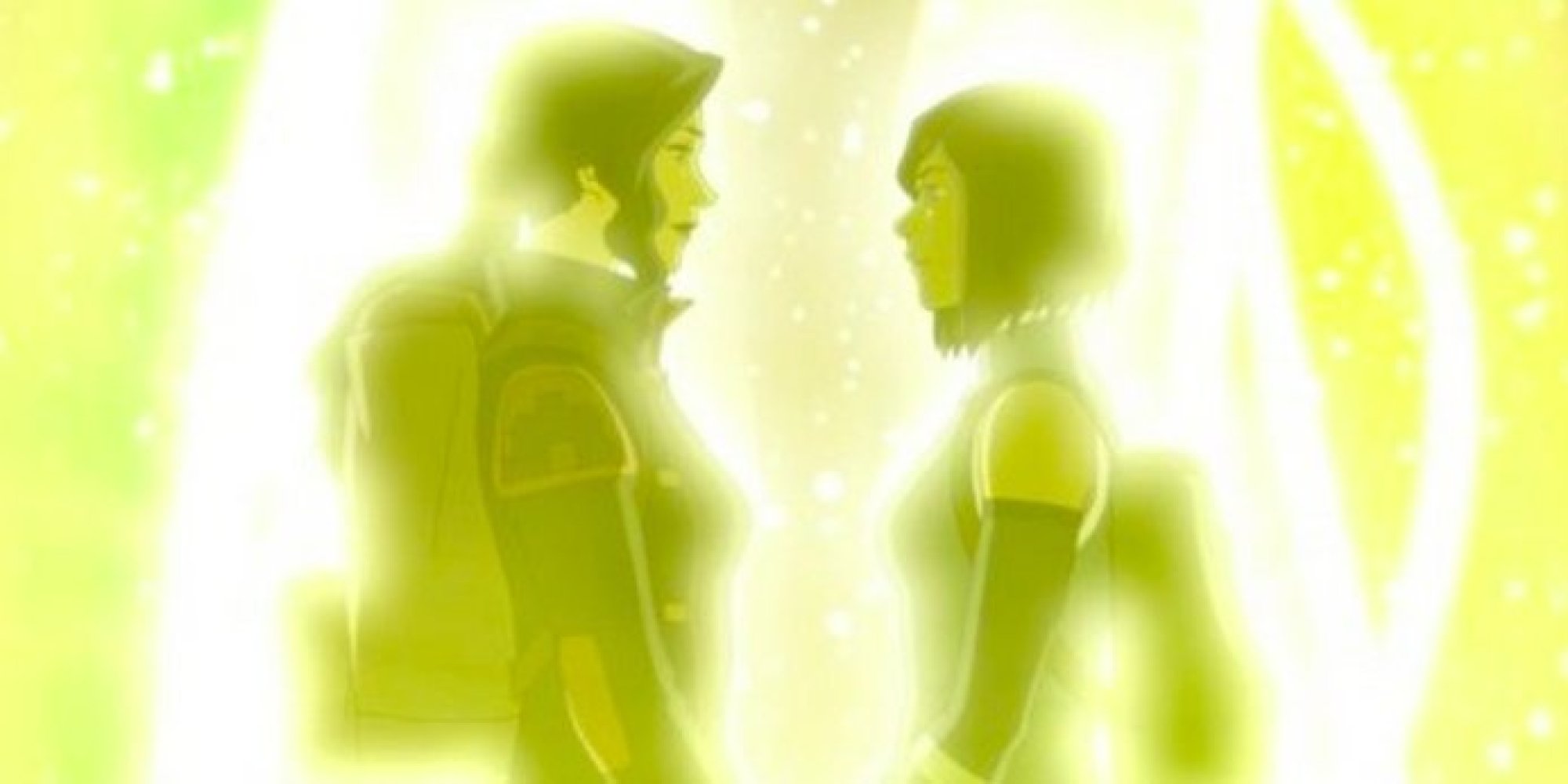 Here's other notable, but ultimately rejected, same-sex animated couples:
Don't get us wrong: the existence of gay animated characters, especially on series directed at children, is great because children should see real representations of different loving couples. Children should understand that the world is made up of different people — heroes, villains, rich, poor, gay and straight — and that gay couples are relevant and can be shown in a positive light.
(featured image via American Dad)
animation
anime
manga
South Park
Steven Universe
The Simpsons