530K Internet Fans Fawn Over the Hottest Math Teacher in the World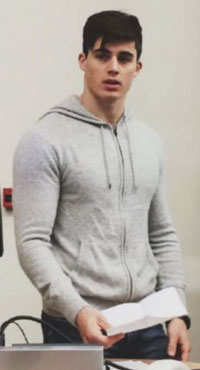 Pietro Boselli is a 26-year-old model PhD in Mechanical Engineering at University College London who teaches advanced math (or as the British call it, advanced mathS). He's also signed with the prestigious Models 1 agency and has over 530K Instagram followers, most of which fawn over his muscular physique like we're about to do now.
To be completely transparent, we're posting this as a way to get traffic (duh), and sex sells. It's also very easy to just re-post a bunch of pictures and Instagram embeds, write up some pap about a model having "brawn AND brains," publish it, wait for the skin-hounds to come 'a-runnin, and call it a day. But today we're feeling rascally.
Truth be told, if you wanna read more about how smart and modest Boselli is, you can do that at the bastion of journalistic integrity (ha ha) that is The Daily Mail — Boselli seems like an earnest, hot dude and he raises some legitimate issues about people overlooking female-on-male sexual harassment — but when we recently posted a similar photo-story entitled, "Adorable West Virginia Same-Sex Prom Couple Wins The Internet," one of our Facebook commenters said, "Of course they win the Internet. They're both generically, moderately attractive white, young cis boys. /sarcasm" The person's comments got 15 likes, and we totally agree with it.
In fact, it raises an even larger issue. I'm a Mexican-American who was raised around other hot white guys in Texas. I get frustrated whenever I open a newspaper, comic book, website, or visit a magazine rack and see mostly white faces staring back at me. On this site I've made a conscious effort to try and use images that feature people of color and differently sized bodies; I'm surprised how hard I often have to search just to find good ones, when white faces and bodies pop up so effortlessly on Google image search.
If I had planned ahead a little more, I would have done a post showing men of color with differently sized bodies who are hotter and more interesting than Mr. Boselli's generic (albeit impressive) Abercrombie and Fitch-style physique. But the demands of the site being what they are, here's the post we got and we promise to do more rather than merely reinforce the idea that white, cisgender, able-bodied musclemen are the only ones worth fawning over — a lazy impulse we see repeated ad infinitum in media around the world.
In the meanwhile, enjoy… (siiiiiigh)
London
NSFW
nudism
Pietro Boselli