The New 'Diverse' Emojis are Here and They are Driving Everyone THREE BANANA EMOJIS
Hark! Lo! Hear ye, hear ye! Gather round, villagers. The wind brings tidings from Cupertino. Change is in the air. Big change. Troubling change. Emoji change. 
Devil, thy name is iOS 8.3.
The good: The latest iOS software update is here. And you only have to delete 3000 photos off of your phone to make room for the download! Of notable import to Rick Ross, the Beyhive, and all you goddamn underemployed millennials living at home, leaving your dirty dishes in the sink when the dishwasher is clean and in need of unloading and MOM I CAN'T RIGHT NOW, OK? STAHHHP. Ahem, 300 new emojis are included in the update.
The bad: A white wine emoji is not one of the 300. How is it possible that a white wine emoji continues to elude us? Is this a Pokemon situation we have here? Am I meant to be catching my own white wine emoji?
The questionable: Apple's much touted ethnically diverse emojis are just the same exact white emojis with different Instagram filters on them. ONE HAND UP WHATEVER GIRL EMOJI now comes in five additional color palettes, including Simpsons yellow. (Who asked for Simpsons yellow?) Naturally, citizens of the world are concerned.
The controversy in one tweet:
Another for good measure: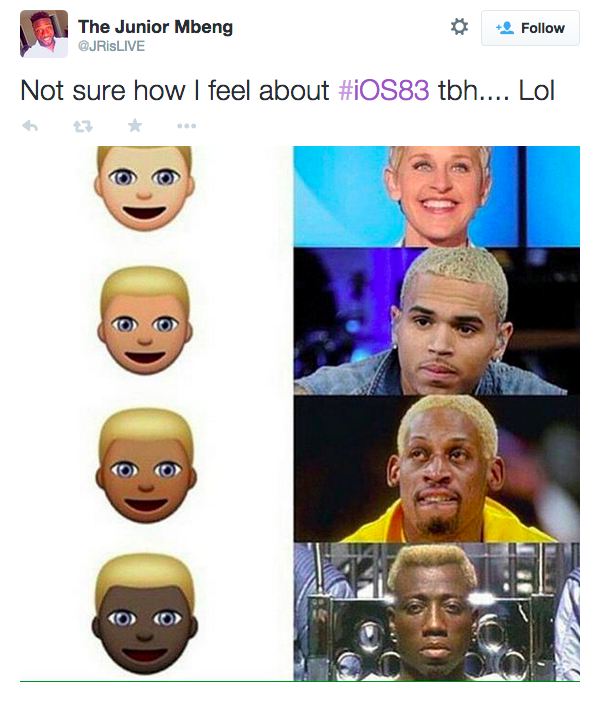 Props to Apple for picking up that Race Together baton right where Starbucks dropped it (when we all simultaneously ordered them to DROP THAT BATON IMMEDIATELY). We're all certainly talking about race today. But once again, it is hard to imagine that this diversity update is being received in the manner anyone had intended.
A word of advice for any multinational corporations itching to step into this arena as well this month ("These things always happen in threes." -My grandmother), people of color are not just white people who took an extra run through the Quizno's toaster oven. That's not how race works.
…said the BLOND HAIRCUT GIRL EMOJI. Ugh, I know.
Apple
emoji
iOS
race