Watch: Anti-Gay Archbishop Gets Pied in the Face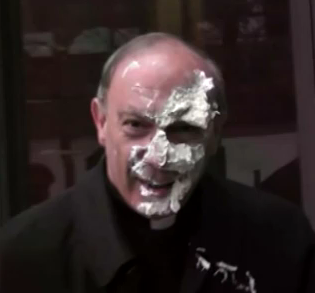 The Belgian Diocese of the Roman Catholic Church is currently being sued by more than 500 victims of sexual abuse at the hands of clergy, so you'd think that maybe they would chill the F out on throwing stones from inside their glass chapel. You'd be wrong.
Archbishop Andre-Joseph Leonard, leader of the Belgian Catholic Church and perhaps complicit conspirator in the protection of sex offender priests, made headlines a few months back for stating that AIDS was "a sort of intrinsic justice" for the world's tolerance of homosexuals.
A group of Belgian activists have responded to the Archbishop's hateful inciting with pie. The group has managed to hit Leonard four times in recent weeks with custard pies. They claim to be doing it "for all those homosexuals who daren't tell their parents they are gay, for all those young girls who want to have an abortion, he absolutely deserved it."
While we don't condone violence, this is pretty fantastic. You'll notice that the classroom bursts into a round of applause when the Archbishop takes his second pie to the face. College campuses love their gays, 'Bish. Their homophobic clerical officials who fail to protect children from priest-rape? Not so much.
What do you think of the Archbishop taking two to the face?
activism
Belgium