Win New Ink T-Shirts From Seventh.Ink Today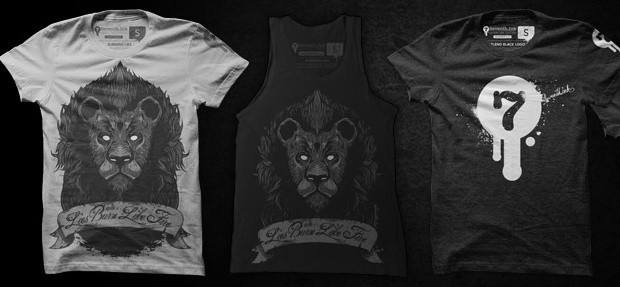 It's no secret that Seventh.Ink is one of our favorite gay-friendly companies. We've featured promotions and giveaways for the brand a good number of times over the past two years, and to be honest, I'm wearing one my favorite Seventh.Ink shirts right now. The designs are edgy and score us mad compliments, and every order comes with freebies and surprise treats!
So it is with great pleasure that we announce that the 2011 Summer Line is out. New ink, y'all! UB and Seventh.Ink are teaming up to bring you a 15% discount on everything on the site until next Tuesday, 6/28/2010. Just use the promo code UNICORNBOOTY at checkout.
And because Seventh.Ink loves you unicorns so much, two UB readers will be taking home a free t-shirt of their choosing from the New Ink Summer Line both today and tomorrow. For the record, our favorite is the Burning Lies Black Tank.
To enter, first LIKE Seventh.Ink on Facebook. Go on. We'll wait… Next, simply tag @Seventh.Ink in a post about your favorite shirt in the New Ink Summer Line on your own Facebook page.
Be sure to set the status to be viewable by Everyone so that Seventh.Ink can see it. To do this, hit the little lock icon next to the "Share" button and change the setting to Everyone Tada. You're done. Matthew from Seventh.Ink will select two winners each day.
Now wasn't that easy?
Matthew Johnson is the force behind Seventhfury Studios and Seventh.Ink Shirts and Apparel. His artistic skills include illustration, graphic design, painting, and photography. Raised mostly in Minnesota, he married his high school sweetheart and they moved out of state in search of adventure. In 2008 they moved to Syracuse, NY and then in 2009 they moved down to Tampa, Florida, where they had their first child and currently reside.
Good luck! And let us know which designs you end up getting!
contest