Don't Be Dumb at Brunch: Reminiscing Over a Rainbow Wave, Diesel's Hate Couture
Happy Sunday! It's brunch time, so don't be dumb. This week we bring you stories about the U.S. midterm election's Rainbow Wave, Notorious RBG's ribs, Barilla pasta, and Homer Simpson in drag. And of course we have our Whackjob of the Week. See who it is below.
Here are the week's 5 news stories that'll keep you looking well-informed at brunch:
1. Blue Is Our Favorite Color of the Rainbow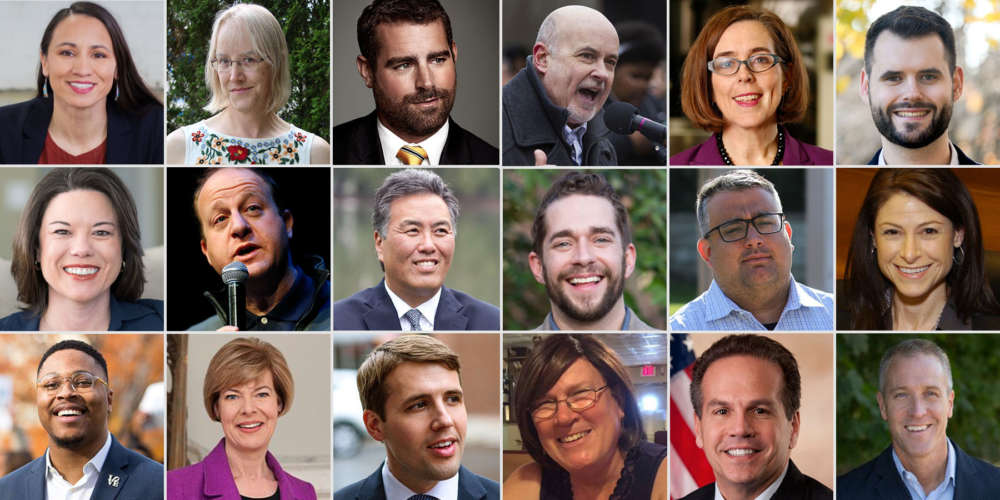 LGBTQ democrats scored massive victories across America at all levels of government this past Tuesday. According to the Victory Fund, an organization dedicated to supporting and electing LGBTQ candidates, 151 members of our community were voted into office at the federal, state and local levels. So as much as we talked about a "blue wave," it was really a "rainbow wave!"
Some interesting electoral tidbits are that the infamous Rowan county clerk, Kim Davis, who refused to issue marriage licenses after the Obergefell ruling, was defeated in her re-election bid, and the state where baker Jack Phillips famously refused to make a cake for a gay couple, Colorado, elected an openly gay governor. For years the LGBTQ community was considered politically powerless with little representation in local, state and federal government positions. That is starting to change, and change rapidly. We need to continue to support LGBTQ candidates as well as the organizations who endorse and help fund the campaigns for increasing our overall representation.
2. Take My Ribs, RBG!
If you haven't heard, you need to stop what you are doing and send Ruth Bader Ginsburg some healing vibes right now. Our heroine of the U.S. Supreme Court fell in her office this week and broke some ribs. We wish we could donate our own to keep her healthy and strong! With two conservative appointees to the Supreme Court that Donald Trump has already confirmed, the next few decades will be a challenge for any progressive, fair and LGBTQ-affirming cases. So send those healing vibes to RBG. We need her to stay strong until we can vote Trump out and start working on bringing some much-needed balance back to the Supreme Court.
3. Carb Lovers Rejoice: Gay Pasta Is Here
A few years back the chairman of past company Barilla said in a radio interview, "I would never do an ad with a homosexual family. … If the gays don't like it, they can go an eat another brand." Well, you can imagine the backlash that ensued even after he issued a quick apology for the statement. Barilla went from a rolling boil to tepid, and the world noticed. Over recent years it looks like Barilla has progressed to become a more inclusive and diverse company by redefining its code of ethics and getting involved in LGBTQ organizations. The company even scored a 100 on the HRC Annual Corporate Equality Index from 2015 to 2018.
But the coolest thing Barilla has done so far is include some amazing artwork on limited-edition boxes handed out at the Word Pasta Championship. The artist, illustrator Olimpia Zagnoli — one of the first to publicly denounce Barilla after its discriminatory comments — submitted a piece of two women sharing a string of spaghetti, Lady and the Tramp-style. She didn't expect them to use it, but they did. And it's really fantastico!
4. Homer Simpson, Meet Queen Chante
In our never-ending quest to have something RuPaul in every "Don't Be Dumb at Brunch" column, we bring you news that Homer Simpson will be dressing in drag on an upcoming episode of the nearly 30-year-old animated show The Simpsons! RuPaul and Raja guest star on the episode, in which Marge embarks on a career selling Tupperware. When advised that drag queens are actually the best Tupperware sellers (a true fact), Marge pretends to be a queen with an assist from Homer, who will wear a black cocktail dress and blonde beehive. The episode airs Nov. 18. 
5. Whackjob of the Week: Diesel and Its F*ggot Couture
Diesel went there. Its new "Ha(u)te Couture" collection actually uses some demeaning phrases in an effort to desensitize people who are the target of negativity. Many of the pieces in the collection are harsh on the brand itself. There are some shirts that say "slut" on them and a jacket that has the word "faggot" all over it. In the advertisement it's worn by Tommy Dorfman from 13 Reasons Why, who is gay. But is this the right move?
Diesel says, "Every individual cast within the campaign relates personally to the issue itself. To bring awareness to the wider issue, each chose a phrase that they wanted to wear proudly with the goal of empowering others to take a stance. Together, Diesel and Tommy Dorfman use this as a platform to disempower the haters and show the more hate you wear, the less you care." So it's OK to be the subject of hate speech as long as you care less about it? Hate speech is a trigger for most and carries so much history and pain that we shouldn't become numb to it as much as we should fight it at every turn. So maybe the "Diesel is Dead" shirt is prophetic for this new line?
Paul Katami and Jeff Zarrillo were one of two plaintiff couples in California's 2013 challenge of Proposition 8, which brought marriage equality back to the state after being ruled on by the U.S. Supreme Court. These activists also host the weekly podcast The Husbands. Catch them there or follow them on Hornet @PaulAndJeff.
Elections 2018
menswear
RuPaul
Supreme Court
The Simpsons