Deck Out Your Bags and Battle Jackets With Pronoun Patches and Pins
Pronouns are a key part of language, and for some queer people — especially nonbinary and trans people — having their pronouns respected and used is a key part of living comfortably. But it's not just trans people who share their pronouns; cisgender people are also sharing their pronouns and thereby destigmatizing the practice of sharing them. One easy way to share your pronouns is by wearing them in a fairly subtle way, like with pronoun patches and pronoun pins you can put on your jacket, bag or even a work lanyard. 
To make things easy, we put together a list of eight of our favorite pronoun patches and pronoun pins for you to check out.
1. Custom Horror Pronoun Iron-On Patch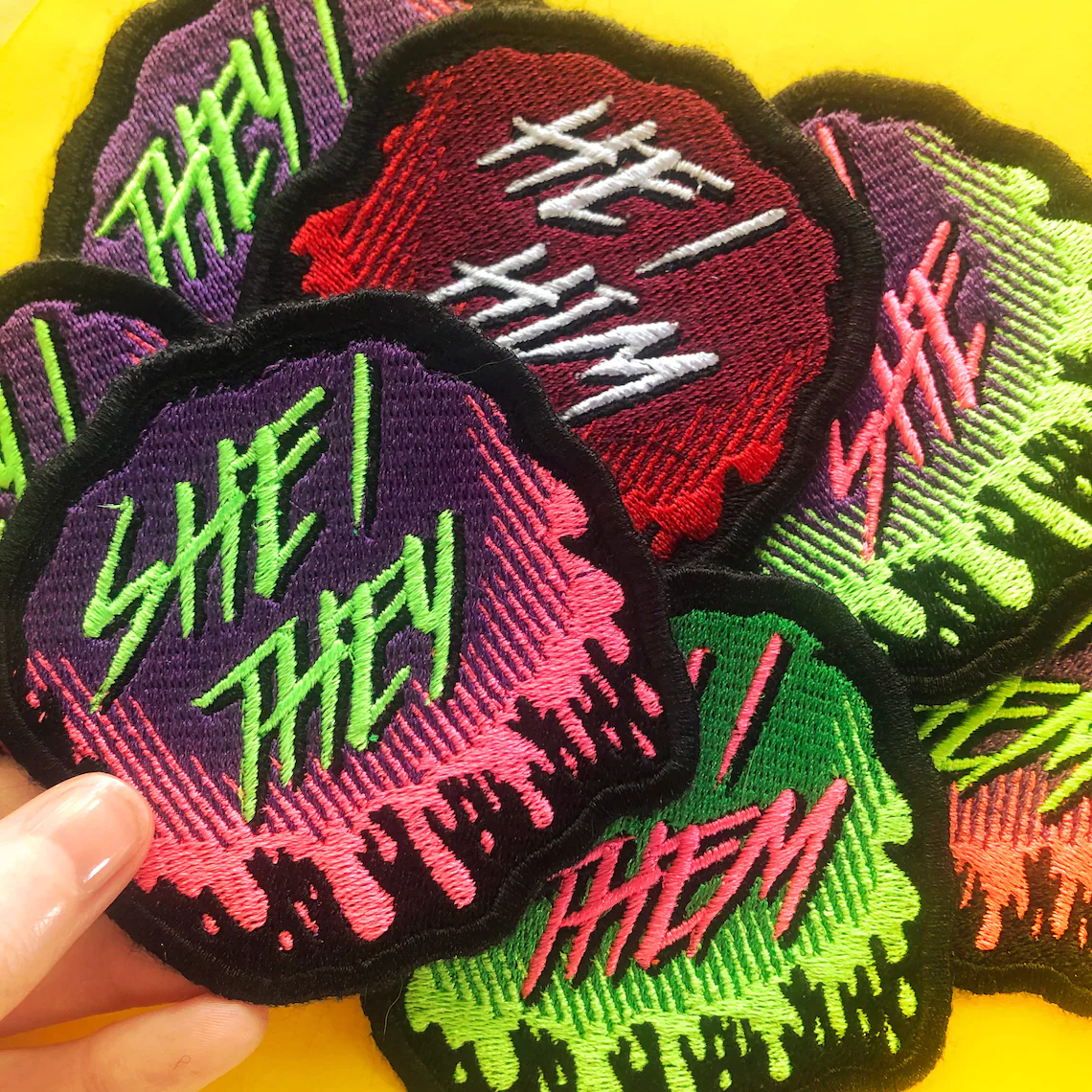 A personal favorite, these horror-inspired pronoun patches from Ghostscratches are perfect for anyone who loves a spooky aesthetic. They come in a variety of colors, and you can also get custom pronouns. Ghostscratches also has other horror-inspired pronoun patches in their Etsy shop.
2. Original Pronoun Planchette Pin
Keeping in line with that spooky aesthetic, one great option for pronoun pins are these planchettes. We've seen a lot of mystical symbols gaining popularity, and the planchette being turned into a pronoun pin is a cool way of sharing your pronouns.
3. Pronoun Pins by Pocalyptic
While enamel pins and handmade patches can be more expensive, these button pins are a totally affordable option. A wide variety of pronouns are available, including some neopronouns like Xe/Xir.
4. Typography Iron On Patch
Only They/Them, He/Him, and She/Her are available, but if you're a fan of clean-looking typography, these goth-inspired typography pronoun patches are definitely for you.
5. Pronoun Pin with Crystal Dial
Some people, like genderfluid people, use different pronouns at different times. This pin is a perfect solution for that. All you have to do is turn the crystal dial to whatever your pronoun happens to be at that moment.
6. The Signet Sealed Pronoun Pins
These beautiful pronoun pins are inspired by signet ring symbolism and flower meanings. Currently They/Them, She/Her, He/Him, She/They, and He/They pins are available with She/They, He/They, and She/He/They variants coming.
7. Embroidered Pronoun Patches
Doodlepeople uses their own handwriting for this embroidered dual pronoun patch. It's cute, lightweight and pretty low-key because of the simplicity of the design. The They/She version is shown but there are all sorts of variations available.
8. '60s Inspired Pronoun Buttons
These retro inspired buttons offer a fun pop of color. They're not customizable, but there are 20 options available, including multiple pronouns, so a wide variety of pronoun combos are for sale.
Will you be picking up any of these pronoun pins or pronoun patches?