Check Out 10 Sexy Pics and GIFs of the Wrestling Scenes from Last Night's 'Riverdale'
Last night on Riverdale, the CW's Archie-inspired teen drama series, Archie the red-headed hunk tried out for his high school's wrestlng team to impress the coach, Hiram (who is also the father of his occasional love interest, Veronica). While Archie got tossed around a bit like a rag doll, it also made for some delicious image stills and animated GIFs. Let's enjoy the Riverdale wrestling images together, shall we?
Kevin Keller, Riverdale High's openly gay heartthrob, takes on Archie and basically kicks his butt, which is great. (Another triumph of homosexuality over heterosexuality!) But Archie also grapples with Hiram and another hot student, giving us lots to appreciate (especially since Archie is packing heat).
Interestingly, the episode (titled "The Wrestler") was also directed by Gregg Araki, the openly gay Queer New Wave film director of such films as Mysterious Skin, The Living End and The Doom Generation. Leave it to a gay director to give us hot wrestling scenes!
RELATED | These 7 Gay Erotic Wrestling Websites Leave Us Sweaty and Down for the Count
Here's a gallery of some still shots from the Riverdale wrestling episode:
Riverdale has become increasingly bizarre of late.
We've had an inept serial killer, a drug ring with the least scary street name ever and even a DIY tattoo removal. And while a number of the characters have gotten to sing, we haven't had a full-on musical episode … at least, not until April when the Riverdale Carrie: The Musical episode airs.
RELATED | Gay Wrestling Pics: 16 Moments Exploring the Sport's Homoerotic Side
The show has consistently handled its main gay character, Kevin, very well. In one episode, he even went cruising out in the local woods. Confronted by his female friend Betty about his behavior, he responds that he can't openly flirt with men in his conservative hometown.
He adds, "This is what I've got, Betty. Me, these woods. So please don't come here and tell me it's disgusting. If you can't accept what I do, whatever I do, then we're just… we're not really friends."
And here's some wonderful animated GIFs: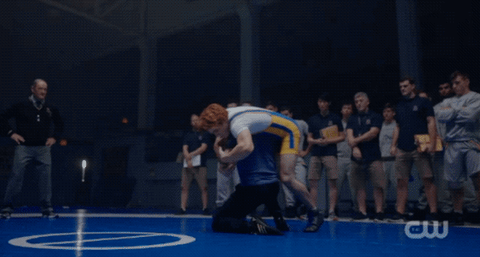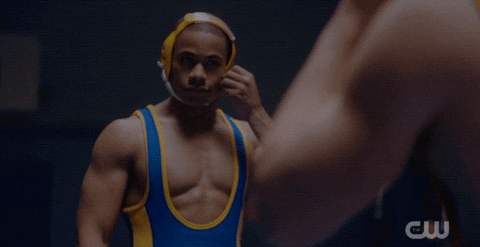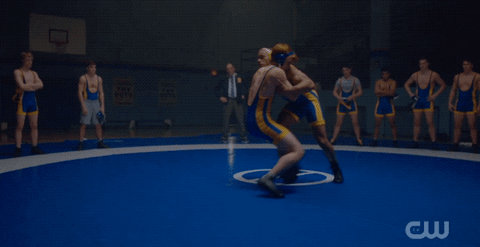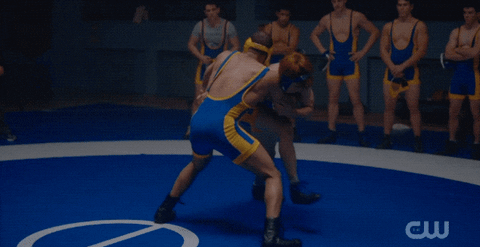 Riverdale
wrestling